Do you live in a small space? Are you a city-dweller where space in downtown neighborhoods is limited? Just because you live in a small area doesn't mean you have to compromise your access to the great outdoors. Recently, a big trend that has emerged for city apartment buildings is using artificial turf for rooftop decks.
What are the advantages of using artificial turf? Read on to learn more.
Benefits of Deck Turf
There are countless benefits to adding artificial turf to rooftop decks. Of course, the most obvious benefit is that it significantly enhances your outdoor living space and quality of life.
Access to clean, exciting outdoor spaces does wonders for your physical and emotional well-being. Additionally, having an apartment or home with a newly done patio will be a great place to host events and parties with friends and neighbors.
Adding an artificial turf rooftop deck will help your home achieve better insulation. The turf on the roof helps keep heat in during cooler months while allowing hot air a place to escape during this year's extra hot summer.
Another significant advantage of artificial grass on rooftops is the environmental benefits. Because artificial turf helps conserve water, installing an artificial turf rooftop deck is a green-approved construction endeavor.
If you're on the hunt for even more benefits of artificial grass on rooftops, check out some of these rooftop turf advantages, including:
Extra space for pets to play and pee
Low maintenance
Low cost
Functional
Durable
Always looks good
Because of the myriad of benefits artificial turf rooftop decks provide, they are an excellent installation, whether you live in an apartment building or have a home.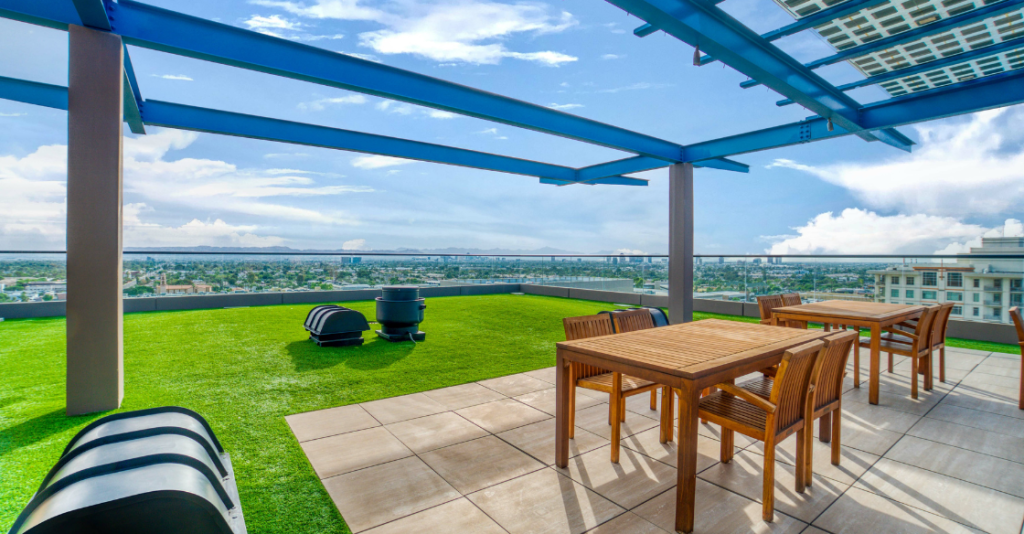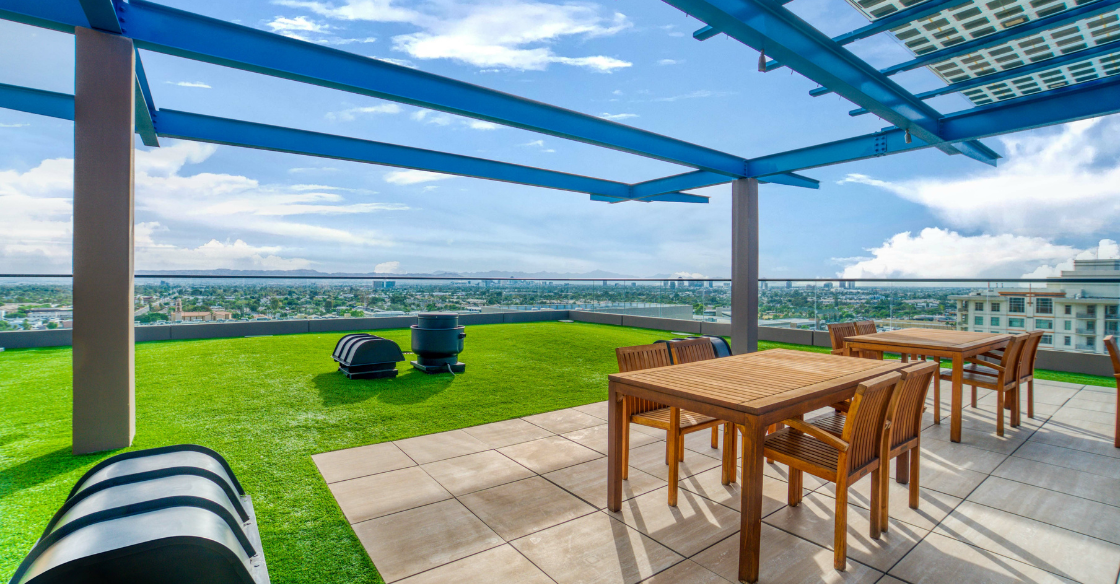 Rooftop Turf Design Ideas
There is no limit to cool design ideas you can do when you decide to install artificial turf on your roof.
If you're interested in sharpening your golf skills, you can install a small artificial green putting space. Not only is this a great way to improve your golf skills, but it's also a great activity to do when you host parties or events. You can also create a lot of other fun outdoor activities like horseshoes, bocce ball, badminton, and more.
Add a yard for your pets
Are you an avid pet lover? Now you can have rooftop grass for dogs! If you have an energetic dog that never stops playing, you can design a dog agility course to ensure your pup gets plenty of exercise on a soft, safe bed of deck turf.
Create a kid-friendly play area
Artificial turfs are great if you have children, too, as you give them an area to play in that's not dangerous, hard-scraping cement, like most rooftops. If your deck is large enough, you can even add a small playground with kid-friendly turf.
Build an outdoor event space
If you're not into high-level activities, turf is also great for relaxing with friends. Purchase lounge chairs, string lights, and a mini-bar to create the outdoor vibe of your dreams. Or even place some lounge chairs to create the perfect sunbathing spot in the neighborhood.
Whatever your rooftop deck goals are, you'll be able to achieve them and more when you install artificial turf on your deck.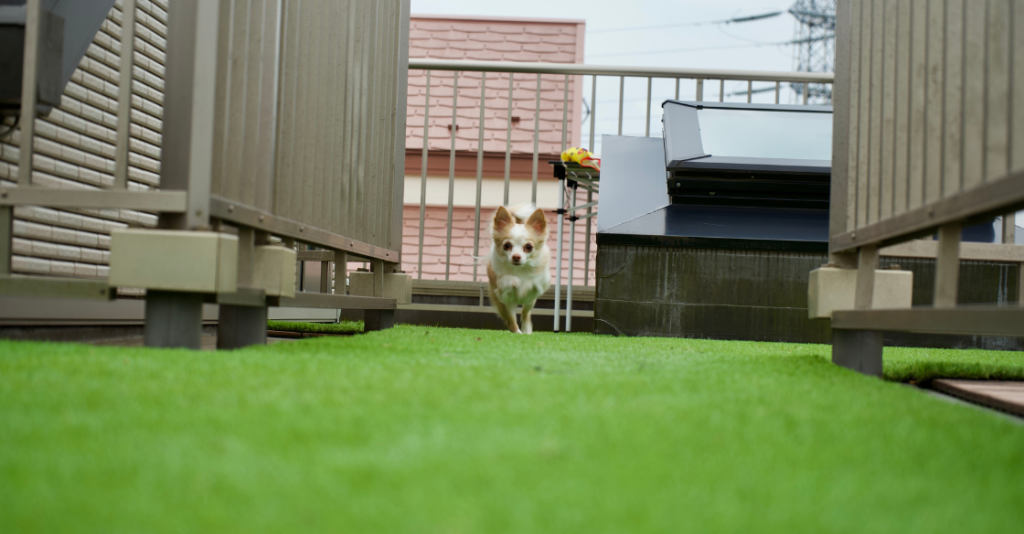 What to Know Before Installing Artificial Grass on a Rooftop
Okay, so you are sold on installing artificial turf for your rooftop deck. Now what? While the installation process is still relatively easy, it's essential to know a few key concepts before jumping into the installation process.
Avoid Grilling Over Turf
While an artificial grass roof is durable and strong, you'll want to be wary about grilling over your turf. The reason? Hot embers.
Rogue embers can land on your turf and burn and melt it, resulting in costly repairs or even having to replace the turf entirely. Because of this, you mustn't install turf where you plan to keep a grill.
For avid grillers who still want the benefits of turf, make sure you install the turf far enough away from the grill to avoid rogue embers.
Even being too close to heat can be enough to warp or melt artificial grass on your balcony, so make sure to plan in enough space between your turf and the grill before you light up for your next summer barbeque.
Test Your Roof Strength
Before crafting the perfect outdoor oasis, ensure that your roof is strong enough to support regular foot traffic such as grills, pets, parties, and more.
The last thing you want to do is cause your roof to suffer structural damage that could cost thousands in repairs.
If you doubt your home and apartment building roof is up for the job, contact a certified roofer to double-check.
Check Your Roof Material
While most roofs can handle artificial turf without a problem, some roof types are not compatible with artificial grass roofs.
Wood roofs, for example, can quickly rot due to excess trapped moisture. However, there are still ways to install artificial turf, even on wooden roofs. Contact a roofer to install proper drainage to ensure your roof does not rot.
Measure Your Roof Size
The space on your roof will impact what sort of activities are safe and feasible to create for your rooftop deck.
To create a more high-energy space, install railings and safety measures to keep all adults, children, and animals safe while having fun on the roof.
Installing Artificial Grass for Rooftops
Are you looking to install artificial grass for rooftops? There are limitless possibilities when installing artificial turf on your rooftop deck.
From adding rooftop putting greens to hosting brunch parties to getting your dog a little extra exercise time, there are plenty of fun activities you can pursue when you convert your roof to a rooftop deck. Do you want to take the next step? Reach out to Magnolia Turf to see what your artificial grass roof options are.