Pet Turf: Artificial Grass for Pets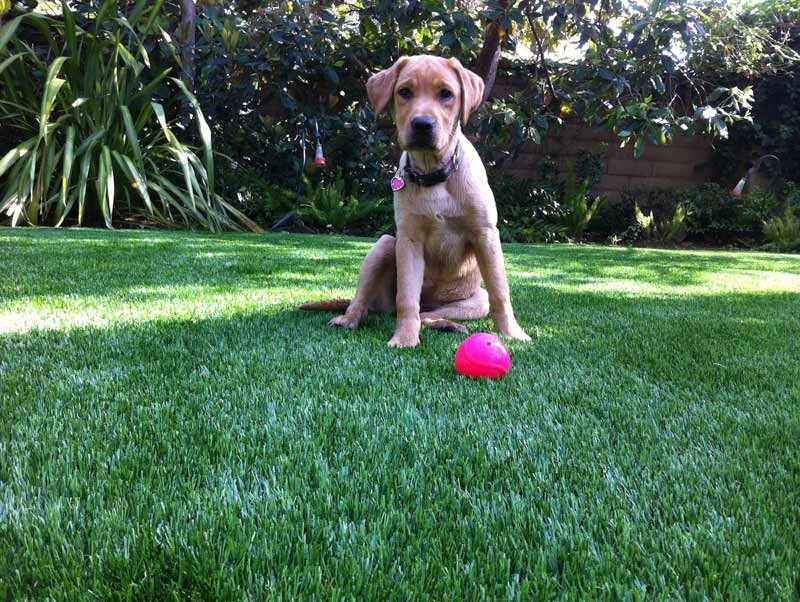 Magnolia Pet-Friendly Turf
Magnolia Pet Turf is a durable pet turf system specifically developed for your four-legged friends! Pet Turf offers a safe, fun and low maintenance area for you and your pets. Our synthetic grass products guarantee your Texas lawn will not fall victim to brown spots, muddy holes or buried bones.
Pet Turf is perfect for your front yards, back yards, and dog runs of all sizes due to its "look good & feel good" nature. Animal shelters, boarding kennels and dog parks love our fake grass for dogs because it can withstand the roughest play–from Chihuahuas and Pit Bulls to Great Danes. Ask us about our artificial grass for pets in Dallas, Austin, and Houston, Texas!
Pet Turf Products Offering 4 Layers of Protection
What's our secret to excellent pet turf? We equip all of our synthetic grass with four layers of protection, starting from the bottom:
Maximum Drainage:

We use a limestone subbase for superior draining, better than decomposed granite and crushed concrete. That means pet urine gets filtered through faster.

Antimicrobial Technology:

Our turf is coated in Microban to keep turf cleaner for longer. Microban inhibits the growth of bacteria, mold and mildew, which reduces odors.

Safer and Stronger Infill:

We use Envirofill instead of Silica because it's the most durable and proven option with unparalleled health and safety benefits for people and pets.

Easy Clean Up:

We provide customers with PE51, the strongest, safest, and most concentrated artificial turf cleaner for pets.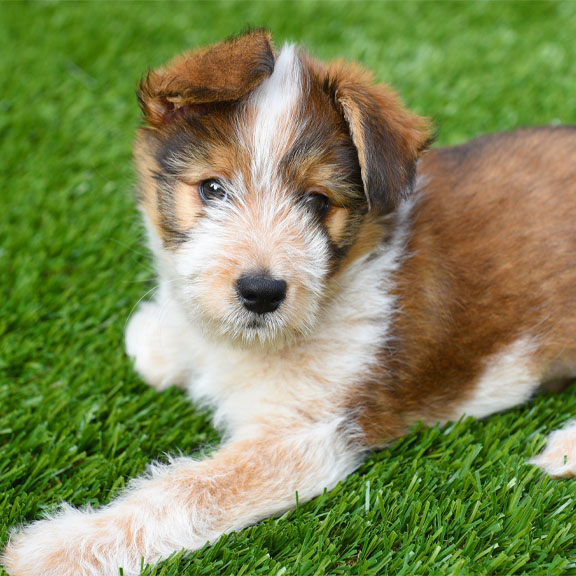 Benefits of Pet Turf in Texas
Artificial grass for pets is an excellent addition to your yard in Dallas and other major Texas cities. Pet turf in Austin or Houston is ideal for residential and commercial properties. Find out what makes Magnolia Pet Turf the best fake grass for dogs.
Safe for Pets and Kids:

The turf installed in your space is 100% safe to use as a play area for pets and kids.

Low Maintenance:

Pet grass is as maintenance-free as it gets. You'll spend minutes, not hours, cleaning your lawn.

Cost-Effective:

Turf saves you money on water, maintenance and is more affordable long-term.

Green Year-Round:

No more dried-out grass. Keep a beautiful lawn year-round regardless of Texas weather.

Controls Fleas and Pests:

While natural grass attracts all types of pests, they aren't known to live on a synthetic grass installation. You'll protect your pets from fleas and ticks and avoid toxic pesticides.

Easy Installation:

Installing artificial grass is simple. Our team will take care of the design and installation, so your synthetic turf is ready for your pup.
FAQs
Is Artificial Grass Good For Dogs?
There are many benefits of artificial turf for dogs. Magnolia Pet Turf is non-toxic and equipped with antimicrobial technology that prevents the spread of bacteria.
Our turf can withstand high amounts of playtime, resulting in less wear and tear from your pup. If you're looking for a pet-safe landscape alternative, our Pet Turf products are the best option.
Does Artificial Grass Get Too Hot For Dogs?
If you're looking for pet turf in Houston, Austin, or another Texas city, you know the frequency of hot outdoor weather. Fortunately, there are ways around rising lawn temperatures if your dog wants to play outside. While artificial grass for dogs will get warmer than natural grass, it does not absorb or radiate heat like pavement, rock, or brick.
Before your pet heads outside, cool down your turf with a garden hose or sprinkler system. You can also provide a shaded area under trees or awnings so the turf will stay cooler.
How Much Is Pet-Friendly Artificial Grass?
Pet Turf starts at $7.50 per square foot turnkey. However, the price of artificial pet turf will vary between projects. The cost of pet-friendly turf can be influenced and determined by the following:
Square footage of the yard
Type of pet turf
Base volume
Total edging used
Special add-ons
What Is The Best Artificial Grass For Dogs?
Pet Turf by Magnolia Turf is exceptionally durable and well equipped with our proprietary turf backing technology. Designed where each blade is triple reinforced through tuft bind technology, which is incredibly resistant to pull force, ensuring your yard stays intact as your pup plays all day! You'll see why Magnolia Turf has the best artificial grass for pets in Dallas, Houston, and all major Texas cities.
Try Artificial Grass for Pets from Magnolia Turf
Contact us to get a free estimate and learn more about artificial grass for pets! We have turf options for residential and commercial spaces with unbeatable quality and prices.