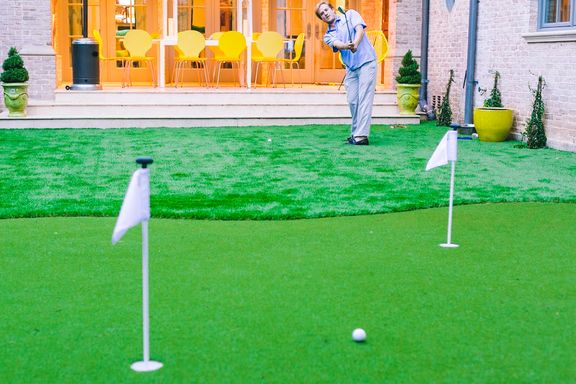 Backyard Putting Greens by Magnolia Turf
3-Putt no more! We design our synthetic putting greens to offer a solution that improves your short game! We offer professional-grade putting greens with creative undulation and design.
Magnolia Turf can create a professionally styled and designed architectural focal point for your home, work environment, or practice facility. We have in-house designers with years of golf industry experience and dozens of attractive green designs. Our trained staff makes the difference!
What's our secret to professional putting green turf? We design our putting greens with the love of the game in mind.
Superior Drainage

We use a limestone subbase for efficient draining, better than decomposed granite and crushed concrete. Our system allows puddles to filter through faster, so you can get back to tee-time.

Antimicrobial Technology:

Our artificial golf turf is coated in Microban to keep turf cleaner for longer. Microban inhibits bacteria, mold, and mildew growth, so your Texas putting green looks like new.

Professional-Grade

We offer three professional-grade golf turf styles. We've thoroughly tested True Putt, P.E. Putt, and Nylon Putt to meet the standards of professional golfers.

Imitates Real Bentgrass

Magnolia Turf's golf greens give the Texas golfer of any skill level the ability to simulate the feel and roll of true bentgrass.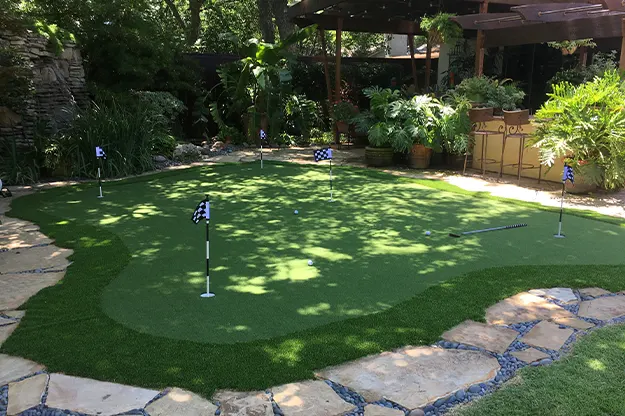 What's our secret to high-quality artificial lawn installations? We equip all of our artificial turf landscapes with four layers of protection:
The optimal size varies depending on your property's square footage. A good starting point for a residential putting green is 500 square feet. Commercial putting greens typically start around 1,500 square feet, while professional courses range from 5,000 to 6,000 square feet.
While the life expectancy of our artificial golf turf is 15+ years, we offer a 15-year warranty if you require a replacement.
Magnolia Turf's Putting Greens cost per square foot starts at $10.00. However, the artificial putting green cost will vary between projects. The cost of a backyard golf green can be influenced by the following
Putting green dimensions
Type of landscape
Base volume
Total edging used  
Special add-ons
Magnolia Turf's putting greens give the Texas golfer of any skill level the ability to simulate the feel and roll of true bentgrass. Our three styles, True Putt, P.E. Putt and Nylon Putt, have been rigorously tested to meet professional golf standards and provide the whole family lasting entertainment.