Artificial grass is an "instant lawn" and the answer to the prayers of many homeowners, especially pet owners. Artificial turf lawns require very little care and maintenance.
Synthetic turf lawns are attractive all year long, and no watering is needed. They eliminate puddling, grass stains, ruts, and bare spots. No mowing, trimming, fertilizers, or pesticides are required, either.
What is needed to keep an artificial grass lawn at its best for many good years?
Artificial grass maintenance is decidedly less intensive than that of traditional organic lawns. However, many people are surprised to learn that they require any care at all. You must do proper maintenance (as little as it is) on a regular basis to maximize the longevity of your grass.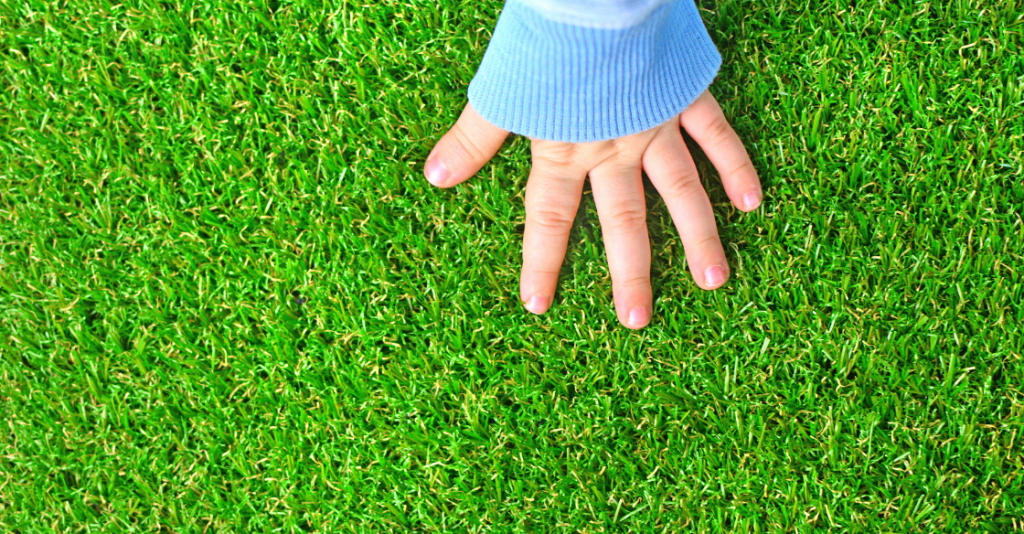 Routine Maintenance for Artificial Lawns
An artificial lawn is a significant investment that you will want to protect. To do that, you must become familiar with how to maintain artificial grass, along with some information on pet turf maintenance if you're a pet parent.
Brush Your Artificial Turf Grass
The infill used for artificial lawns gives the turf enough weight to keep it in place. It also provides the structure required to make filaments resemble an organic, natural grass lawn. Day-to-day wear, the weather, and foot traffic can wear down the filaments over time, resulting in a yard that looks oddly one-dimensional and flat.
You need to reposition that infill and the grass blades regularly. Use professional turf brushes for large areas of turf needing attention. It will work great for small spaces if you have a large natural bristle broom.
After your new artificial turf installation, wait two to three months before brushing your turf. Waiting gives it a chance to settle properly. Then, you can brush it every month or so to keep the blades upright.
Control Debris and Weeds
Weeds are amazing things in that they seem to be able to grow anywhere we don't want them to, including in our lawns. However, weeds are limited in turf lawns because of their film backing for water draining.
The backing on turf is excellent at discouraging the growth of anything underneath it. However, a few very determined invaders are bound to pop through every once in a while. To deal with these intruders, you will have to take a different approach than you would use with an organic lawn.
You won't be able to pull the weeds by hand without damaging your yard. The best way to get rid of weeds in an artificial lawn and make sure they don't resurface is by using a weed killer. However, take note that not just any product will do. You will need a water-based herbicide to prevent damage to the integrity of your turf lawn.
Promptly Remove Stains and Sticky Materials
Artificial grass is not stain-proof, but its synthetic fibers are impervious to water, dirt, and other substances. This resistance makes artificial grass maintenance non-taxing, but stains are still bound to happen.
Whether the cause of stains is spills, animals, or the occasional baseball to the nose, you need to clean stains from your artificial lawn as soon as possible.
Cleaning Mild Stains
All you need is hot water, soap, a bucket, and a sponge. When you've wiped up the spill or pet waste with hot soapy water and a sponge, you can rinse the area with plain water.
Removing Sticky Materials
Remove sticky materials like chewing gum and tree sap from your turf with aerosol refrigerants or dry ice. Both substances will freeze the sticky substance so you can easily scrape it off the lawn.
Cleaning Stubborn Stains
Stubborn stains that don't respond to soapy water may need mineral spirits to draw them out instead. You can also try a 3% ammonia solution in water instead of soap. Some notoriously stubborn substances that can stain turf include grease, motor oil, suntan oil, crayon, and pen ink.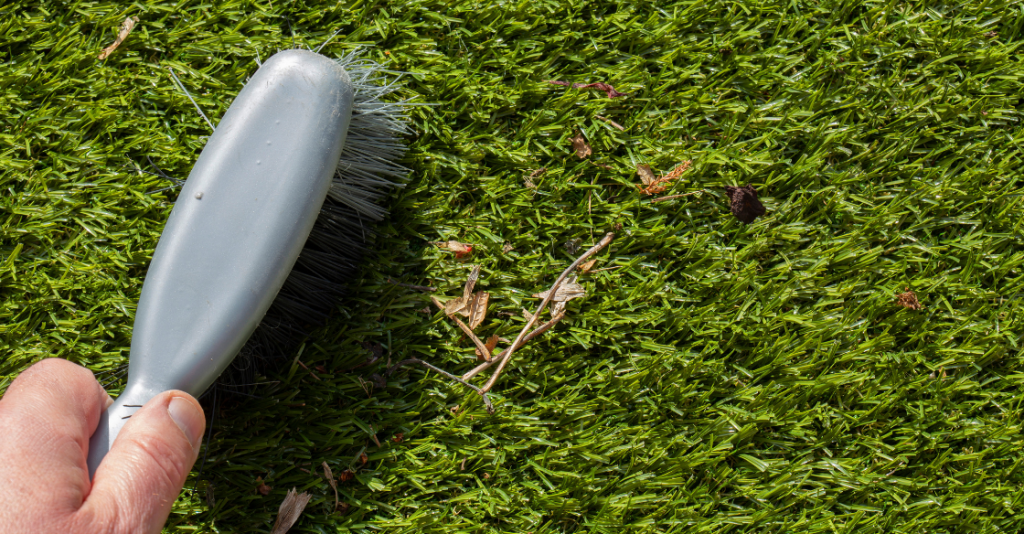 Seasonal Maintenance for Artificial Lawns
You must understand how to maintain artificial grass during each season. Seasonal maintenance for turf lawns is not complex, but winter brings a few additional maintenance items to add to your list.
While heavy snow isn't a regular occurrence in Texas, during those rare times, you'll need to:
Shovel with caution
Allow snow to melt naturally and gradually on its own
Clear debris as needed
Tread on your lawn carefully
Frost doesn't usually damage artificial grass lawns, and even heavy snow shouldn't impact your turf. Before the snow falls, check the nails securing your artificial lawn. The changing of the seasons can have a bit of an impact on these materials.
The spring will bring with it a need for extra attention to weed-pulling, and summer will require you to pay extra attention to brushing high-traffic areas. The arrival of fall will mean more time clearing debris like fallen leaves and twigs if you live in an area with trees. A leaf blower is usually enough to remove excess debris.
How to Maintain Artificial Grass for Pet Owners
Just because you own pets does not rule out the opportunity for you to enjoy an artificial lawn! There are a few tips to help pet owners maintain artificial turf.
Cleaning pet waste is relatively simple. The artificial lawn will drain most liquids, but you can rinse pet urine spots with cool water if you want to avoid smells. Many pet owners allow solid waste to dry before removing it to make that task more manageable and less messy.
Tools to Use: PE-51
One of the best cleaning products available that no pet owner with an artificial lawn should be without is PE-51. PE-51 cleans and deodorizes artificial turf impressively.
It's bio-engineered with good bacteria and combines five enzymes that eliminate germs, dirt, harmful bacteria, and odors. If that weren't great enough, it also helps prevent lice, fleas, and mites!
Enjoy Beautiful, Low-Maintenance Artificial Grass in Texas
Knowing how to maintain artificial grass in Texas is essential for getting the maximum return on your beautiful investment. With some simple tricks and tips and a little know-how, your artificial lawn could last for 15-25 years.
Get a free estimate by contacting Magnolia Turf Co. We have locations in San Antonio, Austin, Houston, and DFW. Need help with your artificial grass maintenance? Let us know!
Contact our team today to learn more about keeping your synthetic grass clean. We look forward to hearing from you!