If you're like most pet owners, you've likely long since given up on the idea of ever having a nice lawn. From brown or yellowed patches in the grass to holes and spots that won't grow back, the idea of a nice-looking lawn becomes more fantasy than reality with furry friends around. When you also factor in the caprices of Mother Nature (inconsistent sun and rain), it all becomes more work than it's worth. But what if there were another way?
Over the years, more and more homeowners are catching onto the idea of pet turf installation for a no-fuss solution to pet-related lawn damage. In addition to maintaining a perfectly healthy look and feel, pet-friendly artificial turf is completely safe for both your two-legged and four-legged family members, regardless of the climate.
Whether you're considering making the change to pet turf for your lawn, or this is the first you've heard of pet turf, we're here to answer your questions. Read on to find the answers to these pressing questions and more in this helpful guide. Here is what we'll cover:
What Is Pet-Friendly Artificial Turf?
Unlike the first generation of artificial grass that was little more than a green plastic carpet laid over unforgiving concrete, the pet turf of today is an entirely different product. Pet-friendly artificial turf is a low- to no-maintenance alternative to natural grass that's highly durable, impervious to discoloration, and comes with a built-in drainage system.
Magnolia Pet Turf products are the perfect blend of life-like aesthetics and functionality. We've taken the basic premise of pet turf and turned it into what it should be. Beyond the look of real grass and low maintenance convenience that comes with pet-friendly artificial turf, we go the extra mile to make sure it's as safe as possible for you and yours.
We've incorporated antimicrobial product protection to prohibit the growth of microbes in your lawn. We coat every inch of our turf in a layer of Microban, a technology that makes potentially harmful microorganisms unable to function and multiply. With Microban, your turf stays cleaner, healthier, and ultimately lasts longer than other pet turfs.
In addition, Magnolia Turf Co. uses the highest quality infill to ensure your lawn stays even and smooth long after installation. With Envirofill replacing the traditional silica, you don't have to worry about frequent top-offs or watering. Envirofill is also infused with Microban for an added layer of bacteria and microbe prevention that keeps this product safe for you and those you love.
How to Install Pet Turf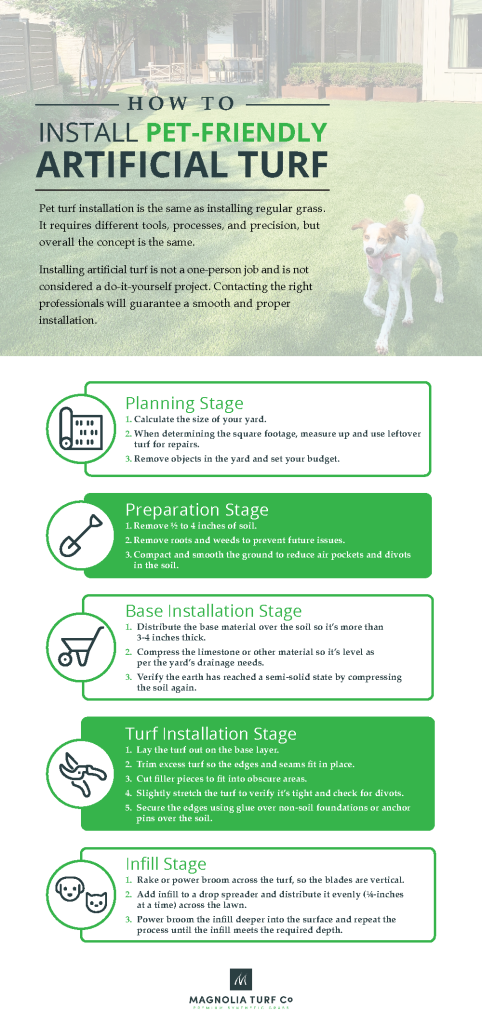 Pet turf installation is the same as installing regular grass. It requires different tools, processes, and precision, but overall the concept is the same. Installing artificial turf is not a one-person job and is not considered a do-it-yourself project.
If you're unsure how to install artificial turf for dogs, contacting the right professionals will guarantee a smooth and proper installation.
There are essentially five stages to pet turf installation:
Planning
Preparation
Base installation
Turf installation
Infill
Planning Stage
Pet turf is more durable than other turfs and typically less lush than landscaping turfs, but most people can't tell the difference if you plan everything carefully and have the right infill. The base and drainage actually reduce moisture and microbial growth.
During this stage, it's essential to think about drainage needs to keep the area clean of waste and to limit odors. The base and drainage on pet turf actually reduce moisture and microbial growth.
First, calculate the size of your yard. When determining the square footage of the space, it's always best to go a little high. You can use leftover turf for repairs. Default-shaped turf is easy to calculate, while "filler" pieces are specialty cut to fit in those awkward areas.
Some obstacles are easily movable, such as dining sets. You can store these items off to the side and place them back where they were later. Unfortunately, other aspects of your backyard may be fixed. If they are unmovable, you may require unique filler pieces.
Some permanent obstacles to consider during this phase are:
Sprinkler systems – remove or cap
Trees
Concrete pathways and steps
Lawn ornaments
Rocks and shrubs
Gardens
Lawn accessories
This list is not comprehensive and does not include the lawn itself. You should also consider tools, materials, and labor during the planning stage.
Once you calculate the yardage, decide what objects you'll be removing and which not. Also, determine your budget and finances. Then it's time to pass to the preparation stage.
Preparation Stage
The first step is to remove 1.5 inches to 4 inches of soil. The exact amount depends on the amount of undergrowth. You should remove roots and deep-seated weeds to prevent problems in the future. Otherwise, they'll create small channels as they grow, which will eventually cave in and alter the foundation.
Once you've removed the soil, roots, and weeds, compact the ground to remove air pockets and divots in the soil. The turf area must be smooth but not exactly level. A very slight slope helps with drainage unless you place a proper drainage system under the turf. In that case, a flat, level surface is required.
Base Installation Stage
This stage is the process of creating the base layer where the pet turf lies. Many companies use decomposed granite, but limestone is the best base material. It allows dog urine to filter faster than other natural rocks.
Distribute limestone over the soil, typically less than ⅜-inches thick. Repeatedly compress it until it's even.
After you've sufficiently compressed the limestone, level the ground as per the yard's drainage needs. In some cases, it may be prudent to allow the soil to rest in the sun for a day or two to allow it to settle.
After this time frame, compress the earth a second time to verify it has reached a semi-solid state.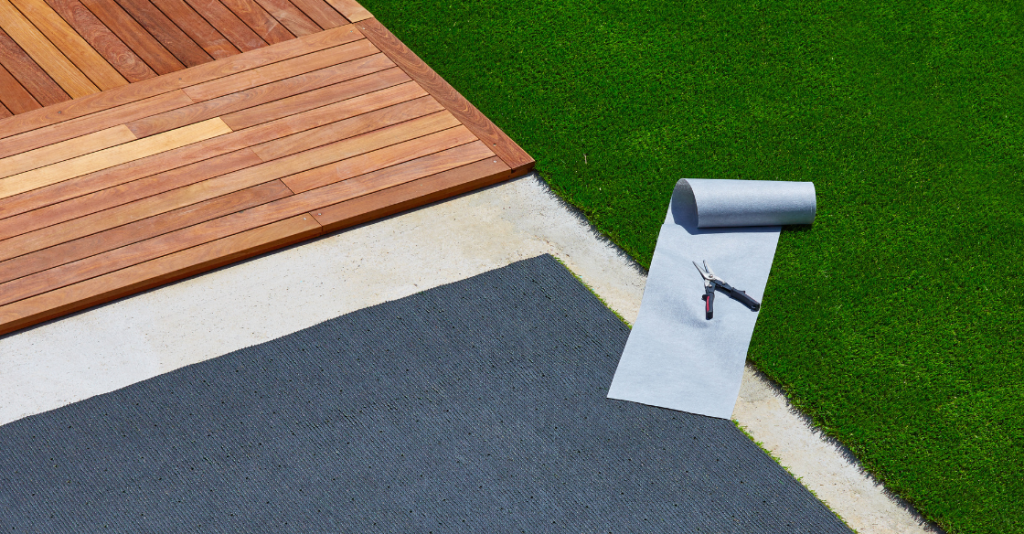 Pet Turf Installation Stage
Lay the turf out carefully onto the base layer. If you drag it on, you may pull remnants of the base layer up, and then you'll have to repeat the compression process. Once laid out completely, trim it and check the edges and seams to make sure they fit in place properly.
After that, cut filler pieces to fit into the obscure areas and slightly stretch the turf out to verify it is tight. Finally, perform a visual inspection to make sure there are no divots or raised areas. Fix any imperfections as needed.
Glue the edges of turf installed over concrete and harder, non-soil foundations. For soil, attach the turf with anchor pins, staples, or stakes. These are usually placed every six inches and not between the filament and stitching. That way, the filament isn't secured to the backing.
Infill Stage
Add infill to the grass. Some consider turf infill as just an aesthetic, but it helps with the turf's performance as well. It adds additional weight to keep the turf flat, protecting it from buckles, wrinkles, and ripples. It also helps with the drainage process.
Overall, infill helps to avoid potentially costly repairs in the future. As for aesthetics, infill helps each blade stay erect, providing a springy feel under the pet's paws and maintaining a natural yard look.
Cleaning Artificial Turf for Pets
Once you have your pet-friendly artificial turf installed, there's not much left for you to do except sit back and enjoy it for a while. When the time comes to care for your pet turf by cleaning it, you'll be surprised by how quick and simple this process is. Now we'll explain how to clean artificial grass for dogs.
Your neighbors will spend an average of two hours a week watering their natural lawns, while your artificial turf only needs 60 seconds of spray-down with a garden hose to remove any solid matter. Not only does this make the process exceedingly time-efficient, but it also saves you money each month on your water bill.
With each Magnolia pet turf installation, we provide each customer with PE-51, an artificial turf cleaner that cleans the turf and deodorizes it. Bio-engineered with good bacteria, this liquid concentrate combines five liquid enzymes to create the ultimate solution to eliminate dirt, germs, odors, and bacteria. It even helps to prevent fleas, mites, and lice.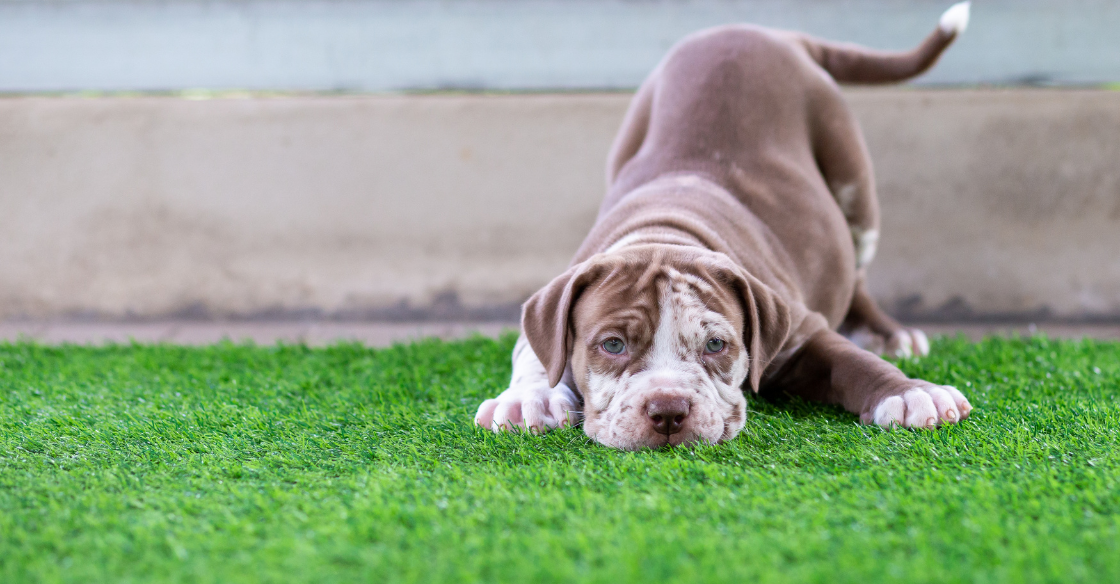 What Are the Benefits of Pet-Friendly Turf?
While never having to mow your lawn again is a great reason all on its own to consider Pet-friendly artificial turf, the list of benefits of synthetic grass doesn't stop there. A few more perks worth considering include:
Cost
While the initial cost of pet turf installation is higher than that of natural grass, that's where the costs end. Natural grass doesn't just eat up time with its constant maintenance; it also takes up money. From gas for the mower and water usage to fertilizers, weed killers, and bug repellents, the cost of maintaining natural grass adds up over time. With pet-friendly artificial grass, your maintenance costs are virtually nothing for the 15 years your turf is expected to last.
Easy to Clean
No soil means no mud. No mud means no muddy paws tracking through your house and no subsequent clean-up. Additionally, artificial pet turf's built-in drainage system does most of the work for you by draining away urine, so there are no puddles to deal with. When all you have to do is clean up solids and the affected areas, you'll have more time to do the things that matter, like playing with your pup.
Effortless Aesthetics
With pet turf, it doesn't matter if your lawn has ample sun or shade. Snow, rain, and hail don't matter either. No matter what the climate or how many people walk upon it, your synthetic lawn will always maintain its perfectly manicured aesthetic.
Pet-Friendly Artificial Turf in Texas
If you're considering pet turf installation for your Texas home, the friendly and knowledgeable team at Magnolia Turf Co. is standing by. We have locations in Dallas, Austin, Fort Worth, and Houston. We pride ourselves on delivering the highest quality pet turf on the market with unbeatable customer service. Contact us today to find out how our pet system can transform your yard into the pup paradise it is meant to be.