Ever wonder how your neighbor always seems to have a perfectly green lawn even though they're never working outside? Artificial turf might just be the secret. Artificial turf has given homeowners and pet owners all over Texas and across the United States a quick and easy way to have a picture-perfect lawn year-round. The benefits of artificial grass are both financial and environmental.
A perfectly manicured lawn increases your home's curb appeal and offers a warm invitation to guests. But anyone who's ever tried knows it's not as easy as just cutting your grass every two weeks.
A flawless natural lawn takes forever to get perfect and requires hours of continued maintenance. That's why many go the artificial route. In this article, we'll review the following to share how synthetic grass could save your lawn: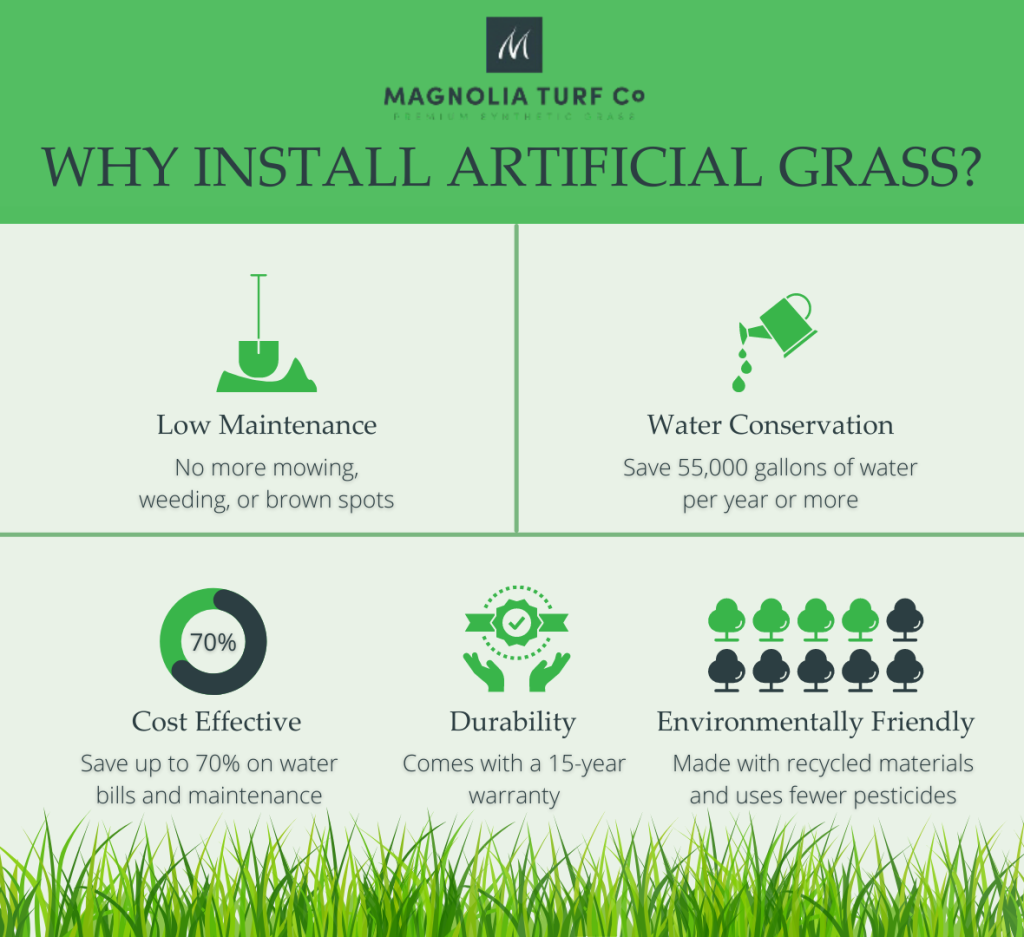 Why Install Artificial Grass in Texas?
There are many reasons to install artificial grass in Texas. For example, many homeowners are installing artificial grass in Dallas as a way to:
Cut down on lawn care costs
Lower environmental impact
Eliminate dead patches
Give the lawn staying power
Prevent pesky grass stains
Maximize cost-effectiveness
If those ideas sound good to you, keep reading about the many benefits of artificial turf below.
Low Maintenance
Artificial grass requires significantly less maintenance than a natural lawn does. It never needs to be cut and requires very little "keeping up" work at all. Since you don't need to water fake grass, it's also drought-resistant. That can be a lifesaver during the summer months in Texas.
Whether you landscape your yard or pay a professional, going artificial will slash your long-term lawn care costs.
Environmentally Friendly
Although it may seem counterintuitive, replacing your natural grass with artificial grass is better for the environment and can shrink your carbon footprint. The average Texas household uses 729 gallons of water for outdoor purposes in the summer months, including irrigating the lawn. Even then, many homeowners still find unsightly dead patches.
Making the switch to artificial grass will save you hundreds of gallons of water every month, good for the environment and your water bills. Artificial grass doesn't require the same fertilizer and pesticides that natural grass does. And since you'll no longer be using all of your gas-powered lawn equipment, you don't have to worry about the emissions they produce either.
Additionally, synthetic turf manufacturers often use recycled materials for their artificial grass.
Always Looks Good
It seems like every season there are new threats to your lawn. Whether it's the extreme heat, cold, or storms, a lot can go wrong outside and damage your lawn. Residents of Texas experience all three of these in any given year.
One of the significant benefits of artificial grass is it withholds its appearance. Artificial turf can withstand extreme temperatures and weather conditions without showing signs of damage. So while other people worry about dead patches of grass and weeds, homeowners with artificial turf can rest easy knowing their lawn looks great any time of year.
Durability
Artificial turf manufacturers have made many significant advancements in recent years. Fake grass is sturdier and more durable than ever before and lasts longer, too. It used to be that artificial turf came with a two- or three-year warranty.
Now, it is common to see turfs with 15- and 20-year warranties. Real grass lawns require hours of work to keep them in shape.
Cleaner
With fake grass, pet owners and parents everywhere will never find grass damage or stains again after a potty break or long play session. Both pets and kids love to roll around and play outside. With artificial turf, they can play as much as they want and as rough as they want to, without the mess.
Benefits of Artificial Grass for Pets
Artificial grass for pets is the best option for any pet owner. People love it because it is:
Easy to clean
Antimicrobial
Stain-resistant
A natural pest control method
Anti-digging
Pet turf is artificial grass that is specifically designed to be safe and accommodating for your four-legged friends. 
Easy to Clean
When it comes time to clean your artificial lawn, it will only take a matter of minutes. Any liquid waste from your pets gets adequately drained from the artificial turf into the ground below. Many companies use decomposed granite or crushed concrete to facilitate drainage, but a limestone sub-base is the best for drainage.
Antimicrobial
Microban odor control and antimicrobial agents are integrated into the blades of our turf during the manufacturing process. This patented technology never washes off or wears away and stays active for the life of the product. Microban technology inhibits the growth of bacteria, mold, and mildew growth on artificial grass, keeping your front and back yard cleaner, fresher, and odor-reducing. Microban technology helps reduce odors caused by pet urine.
No Brown Spots
Everyone knows dog urine is notorious for turning healthy green grass brown. The color change is due to the high levels of nitrogen in dog urine reacting with the grass, killing it over time. But with fake grass, there's nothing for the nitrogen to kill. Your pet will be free to do their business wherever they like, and your lawn will remain just as lush and green.
Natural Pest Control
Fleas, ticks, and other pests are innately drawn to natural grass. But they are not drawn to artificial grass the same way. This makes pest control for your whole yard more manageable and reduces the chance of your beloved pet getting bit and contracting an insect-borne illness.
Prevents Digging
If your pup is a digger, you likely find new holes in your otherwise beautiful yard all of the time. Artificial grass designed for pets is made extra durable and usually has multiple reinforced layers that even the most vigorous chewers and diggers can't get through. It feels just like grass on their feet, but it's much more substantial.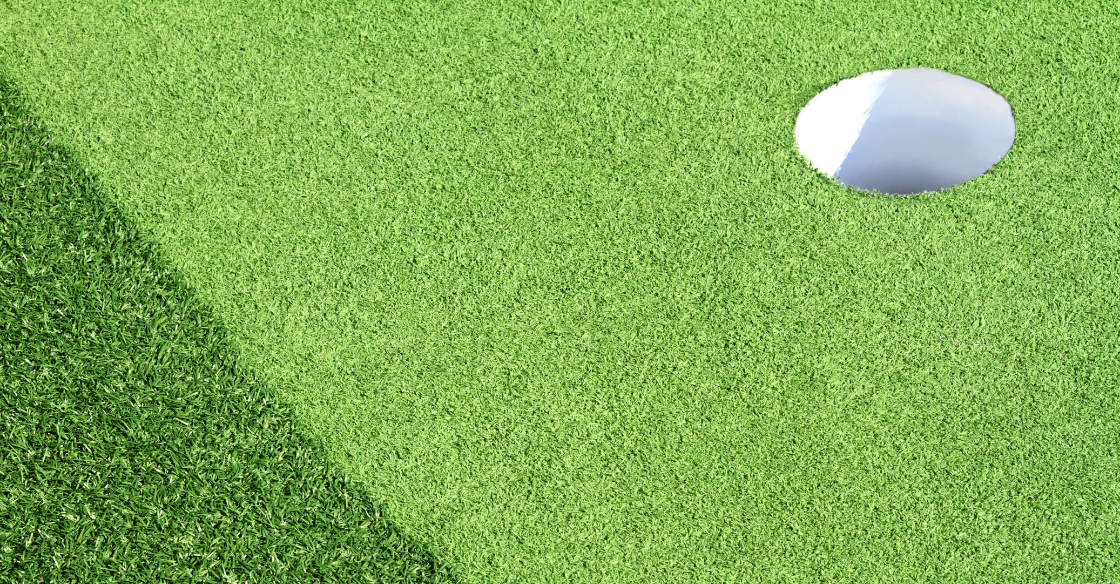 Benefits of Putting Green Turf
Artificial turf comes in many forms, with one of them being putting green turf. Now, you can have your own golf course in your backyard. Golf lovers rave that they are:
Entertaining
Realistic
Low Maintenance
Customizable
Entertainment
With artificial putting greens, you can hit the links without leaving your backyard. Putting greens can be a fun and relaxing way to spend an afternoon or entire weekend.
Realistic
Artificial putting greens are different from other artificial grass because they transform your entire backyard, topography and all, into a golf course. Many exclusive and professional golf courses use artificial turf today, so you're not missing anything from the golf club experience.
Low Maintenance
Maintaining a putting green has never been easier. Simply sweeping debris weekly and occasionally cleaning the turf is all it takes to keep your putting green in peak condition.
Customizable
The Magnolia Turf team has the experience to customize and design the perfect layout for your backyard. We focus on using natural curves for the putting green layout, so it fits with your landscape. We can do dramatic undulations or keep it as flat as you would like. Tee boxes or chipping pads are a fun feature we can implement into your project.
Pros of Using Artificial Turf for Landscaping
Maybe you aren't big on pets or golfing, but you like the other benefits artificial turf provides, such as:
Decreased water usage
Weed resistance
Simple beauty
Decreased Water Usage
Stop wasting money and water trying to keep your lawn hydrated in the scorching Texas sun. Artificial turf only requires a tiny bit of water for cleaning purposes and will stay green all year long.
Weed Resistant
Artificial turf for landscaping is much more resistant to weeds than regular grass. The compacted base of artificial grass makes it difficult for weeds to break through. When paired with a sound weed barrier, you can almost eliminate the need for weeding.
Added Beauty
Artificial grass has a simple natural beauty to it that enhances any landscape. The uniformness in color and length is very pleasing to the eye and will garner lots of compliments.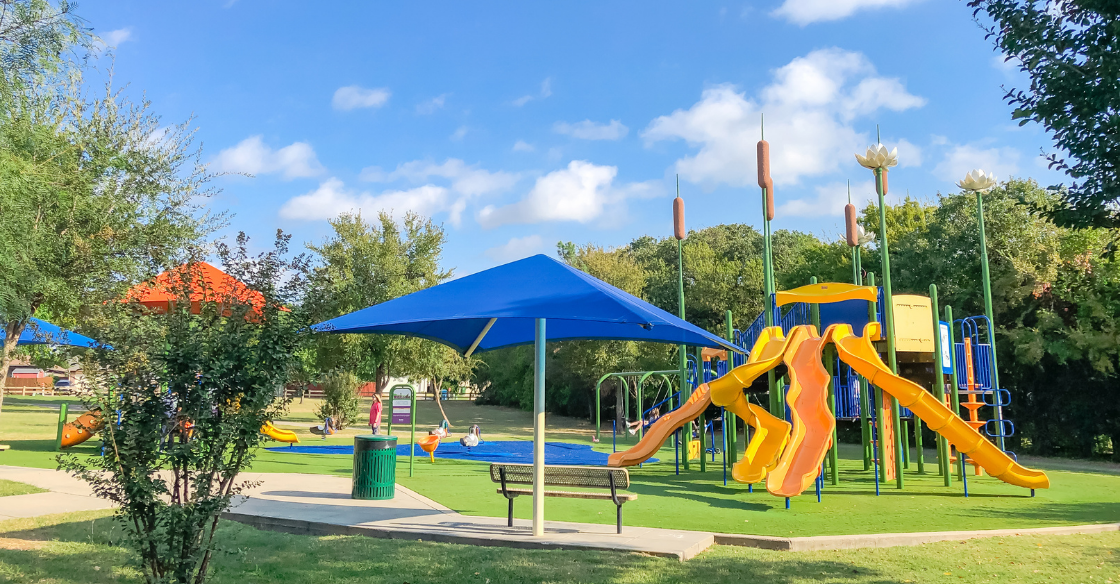 Benefits of Fake Grass for Playgrounds
Perfect for families with small children, Texas playscapes with fake grass provide durable padding that is:
Safer
Hypoallergenic
Durable.
These protections give parents peace of mind and kids a beautiful, fun place to play.
Superior Safety
Magnolia Turf designs artificial grass for playgrounds with safety in mind. This kind of fake grass has extra padding and can absorb more shock than other synthetic grass. Any reliable artificial turf for playgrounds will be safety tested, which is how you know it's reliable.
Hypoallergenic
If your child is allergic to grass, an afternoon outside can turn into a nightmare. Artificial grass provides a hypoallergenic base that feels like natural grass that everyone can enjoy.
Durable
Kids are some of the toughest creatures on the planet. On top of being padded for safety, artificial turf for playgrounds is padded to last longer. Unlike other playground padding materials (e.g., wood and rubber mulch), artificial turf lasts much longer and can endure rambunctious kids or heavy winds.
Ask Us About Artificial Turf Installation in Texas
If you're interested in any kind of artificial turf in Houston, Austin, or another city in Texas, contact the experts at Magnolia Turf today. We have extensive experience with all types of synthetic lawn installation services and can identify the best choice for you. We provide excellent customer service and high-quality products, so you'll never worry about time spent maintaining a natural lawn again.