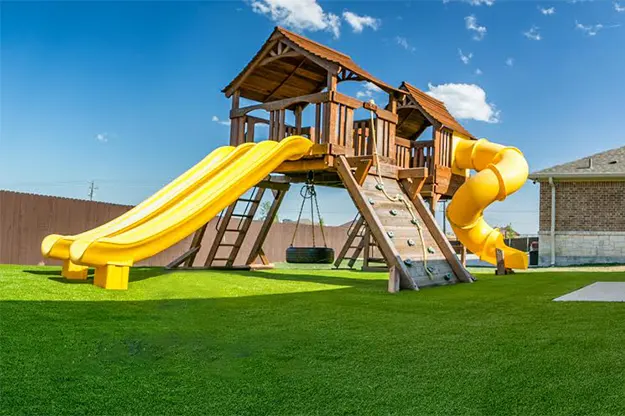 Florida and Texas PlayScapes by
Magnolia Turf
Safety is the priority for Magnolia Turf's artificial grass for playgrounds. With the ever-increasing popularity and realistic look of synthetic grass, playgrounds can have natural-looking elements that encourage children to play while revolutionizing the safety surface industry.
We engineered our PlayScapes System to provide a safe and natural-looking surface for any playground. Our artificial grass for playgrounds showcases a contemporary, clean and soft surface that exceeds industry quality and safety standards.
What's our secret to safe and durable playground turf in Texas and South Florida? We equip all of our PlayScapes installations with four layers of protection:
Superior Drainage

We use a limestone subbase for efficient draining, better than decomposed granite and crushed concrete. Our system allows puddles of rain and melting snow to filter through faster.

Antimicrobial Technology:

Our artificial grass for playgrounds is coated in Microban to keep turf cleaner for longer. Microban inhibits bacteria, mold and mildew growth, so your Texas playground is safe for kids

Recycled Foam Padding

layScape products feature a variety of recycled foam padding with GMAX scores that protect against impact injuries. Our padding can cushion falls from 6-10+ feet, meets American Society for Testing and Materials standards.

Innovative Design

Our synthetic play turf is designed to outlast regular turf and withstand the roughest and toughest play.
Wondering about our high-quality playground grass installations? Find out about our artificial turf for playgrounds here:
You should rinse and groom your artificial lawn installation periodically. We recommend spraying your synthetic grass with a hose or sprinkler system for about one minute per week. You can also push a power broom through the turf areas that need attention.
You should also look out for dirty spots or fluids. PE-51 is an excellent cleaning solution and is safe for kids.
While the life expectancy of playground turf is 15+ years, we offer a 15-year warranty if you require a replacement.
Magnolia PlayScapes starts at $8.00 per square foot turnkey.  However, the price of playground turf will vary between projects. The cost of your Texas PlayScapes installation can be influenced and determined by the following:
Square footage of the yard
Type of landscape
Base volume
Total edging used
Special add-ons
PlayScapes by Magnolia Turf is resilient and well-equipped with recycled foam padding that protects against impact injuries. Pair PlayScapes padding with our signature anti-microbial Durafill infill, and your playground will be a fun and safe environment for years to come!