As more homeowners take charge of their landscaping, artificial grass and turf are becoming increasingly popular.
If you're considering buying turf, you more than likely have heard people mention something called turf infill.
Turf infill is a non-negotiable feature of turf that helps it last longer and keeps it in good shape. However, the specific turf you should buy depends on various factors.
In this article, you'll learn about artificial turf infill options, the best artificial turf products, and which infill type you should purchase for your artificial lawn.
What Is Turf Infill?
Turf infill is those tiny bits of material sprinkling between the artificial grass blades. For example, if the edges are similar to blades of grass, then infill is the dirt for the turf.
There are many benefits of turf infill, such as:
Added weight
Mimics grass-like feel
Provides drainage
It prevents algae, fungus, and bacterial growth
Eliminates pet odors
Keeps blades upright
Ensures turf lasts longer
Protects against UV rays
The main advantage is that it adds weight to your turf so that it doesn't come up when you walk or run over the artificial grass. It also acts as a placeholder to ensure that the synthetic blades hold their form.
There are many different types of turf infill. Of course, some types are better, and some infill checks off more requirements than others.
The specific type of infill depends on your intention for your turf. Are you installing turf to give your furry friend a place to relieve themselves? How large is your budget? And so on.
Below, we'll explore three main types of infill and what type you should purchase based on various needs.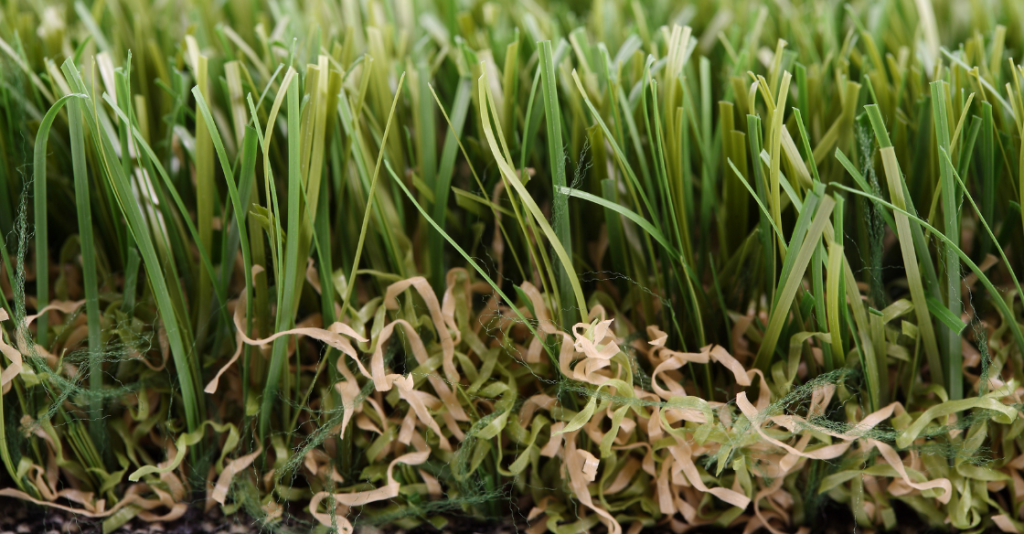 Anti-Microbial Protection
If you're looking for an infill with built-in health properties, consider purchasing an antimicrobial turf infill. Antimicrobial properties reduce the amount of fungus and bacteria that often form within the turf.
It's great to use if you have children. If you have pets, this infill is a great option, too. Many antimicrobial infills come with neutralizing properties that help reduce or eliminate pet pee, poop odors, and other foul smells produced when an overgrowth of bacteria is present.
Antimicrobial protection turf infill is one of the higher-grade infill types you can purchase. However, it is worth the price if you're worried about bacteria, fungus, or algae growth. For homeowners with furry friends, an antimicrobial infill is the best infill for pet turf.
Crumb Rubber
Crumb rubber is the indisputable ruler over turf infill for activities. Because it's constructed of recycled rubber, this infill provides a significant amount of bounce, making it an excellent choice for those looking to play sports on the turf. It's also a great option if you have rambunctious children who want to run and play on the turf.
Crumb rubber is most often from old tires. During the breakdown process, manufacturers remove steel and metal from the material to produce small, grain-like pieces of 100% rubber.
Still, there are some downsides to using crumb rubber for your infill. For one, because crumb rubber is so dense and black, it absorbs heat and sunlight, making your yard hotter. If you don't have shade on your property, you may want to opt for a different turf infill to avoid that oppressive heat.
Crumb rubber has also been known to leave black dust on whatever it comes in contact with. That means if you (or your children) spend a lot of time rolling around on the turf, they'll pick up a lot of harmless but pesky black dust. This dust also translates onto items you leave on the turf, such as books, clothing, towels, and shoes.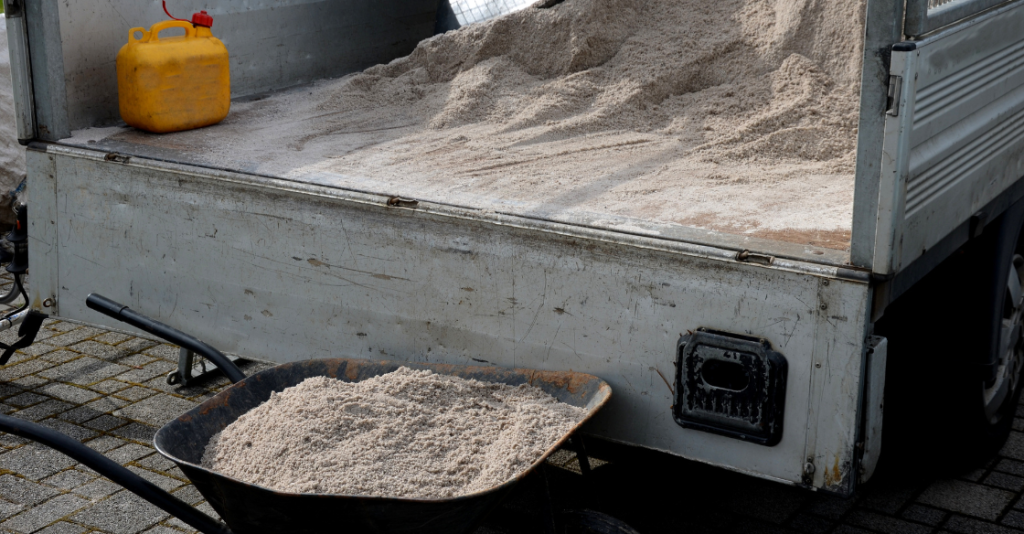 Silica Sand
Are you not looking for anything fancy? Do you want to grab something that gets the job done without breaking the budget? Silica sand may be the infill for you if that's the case.
Best for a budget, silica sand accomplishes everything infill sets out to do without a hefty price tag. Silica sand, crafted using silica and oxygen, is widely used in many turf fields and artificial greens.
Boasting such benefits as excellent drainage and helping turf retain its form and structure, silica sand is a perfect choice for any beginner turf creator.
Additionally, silica does not degrade when it comes in contact with acidic or harsh chemicals.
As a result, if you're looking for a turf infill that gets the job done, consider silica sand.
Final Thoughts
There are many types of infill that you can invest in. While narrowing down your options may seem overwhelming, the selection process will be much more manageable if you consider your priorities and goals for your artificial turf.
Are you still unsure what type of infill to invest in? Contact a Magnolia Turf to guide you through the process. We can help you choose a suitable infill and understand answers to questions like how much infill for turf you should buy.