If you're considering your options for outdoor playground turf, you're trying to decide between grass and turf. It's not easy. You may think natural grass is better because it feels soft walking on it. However, it's not that simple.
Natural grass might feel springy to walk on, but the earth beneath it is often hard, especially if it's dry. Then, you'll need to keep it watered just enough without making it muddy.
And if there are high traffic areas, such as those under swings and in the landing zones of slides, you'll be down to dirt in no time. Those zones easily and quickly become hard as a rock.
Alternatives to grass for play areas come with many questions:
What's the best playground turf?
Where do you begin searching for outdoor playground turf?
What are the pros and cons?
We answer these questions here.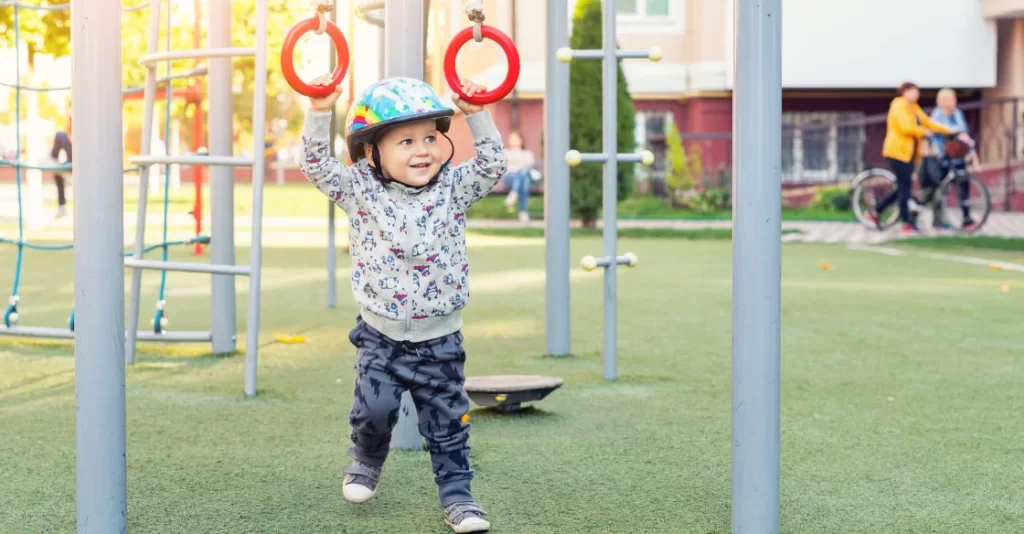 Why Play Turf Is Beneficial for Kids and Parents
There are many benefits of outdoor playground turf. It never needs to be watered, cut, weeded, or fed, and it's always green. But there's more:
Superior drainage means it's usually drier than grass
The antimicrobial coating keeps your whole family healthy
Easy to maintain with a broom or leaf blower
Fall protection with built-in padding
That fall protection is a serious advantage. With our engineered underlayment, you can specify how much padding you want.
For most installations, fall protection up to five feet is adequate, but maybe your situation demands a little more because of a tall play structure. In that case, we can install padding to protect against fall injuries from six to ten feet.
When you think that through, it means fewer worries for moms and dads, less stressful play for kiddos, and logically, fewer trips to the ER for preventable injuries these days, if only you had play turf.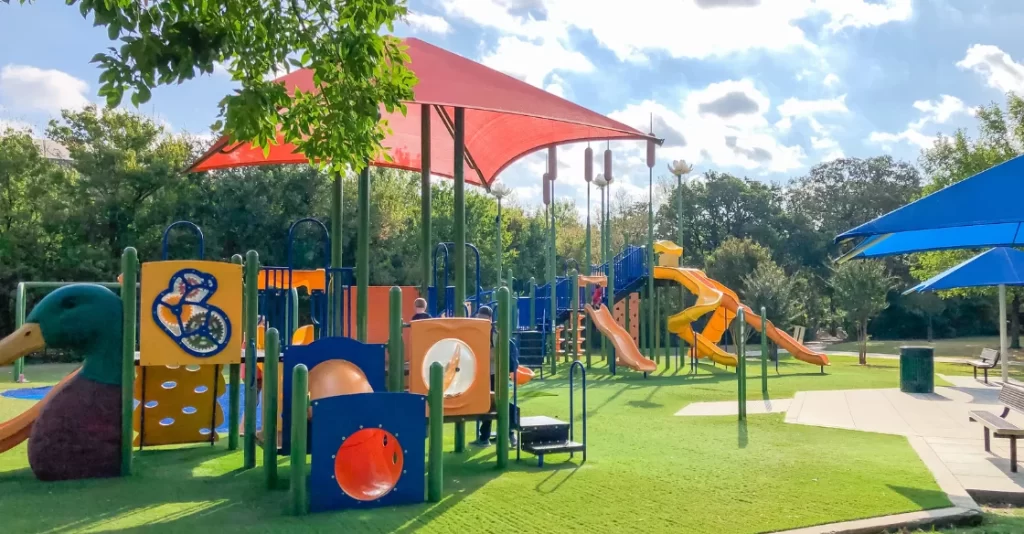 What to Look for in Playground Turf
When considering your options for outdoor playground turf, the best playground turf will carry certain advantages over competitors.
We recommend playground turf that's coated with Microban. This feature discourages the growth of harmful microorganisms that can transmit disease. The last thing you want is your playground to be a hotbed of germs.
Another feature you want to watch is a professionally installed system, not just somebody rolling out artificial turf on top of a gravel bed.
We thoroughly design each installation with engineered materials, and we dig down so that we can build each play installation in several layers that provide safety through proper drainage and padding.
Underneath the turf surface, you will find lawn padding that cushions any fall. We offer two types of lawn padding for those spills and thrills:
Medium density foam: 5-foot fall rating
High-density foam: 8-foot fall rating
Our limestone substrate is safer and more absorbent than crushed concrete, ensuring water drains away quickly and efficiently. Plus, you can customize our engineered play surface padding to the thickness your play equipment requires.
And if the play turf you're considering isn't easy to clean, forget it. Ours requires occasional sweeping with a broom or even a leaf blower. And if there's a spill, just hose it down.
If the dogs do their business on it, no worries there, either. The powerful, enzyme-based PE-51 cleaner, safe for pets and kids, will eliminate all germs and odors and won't damage PlayScapes Turf.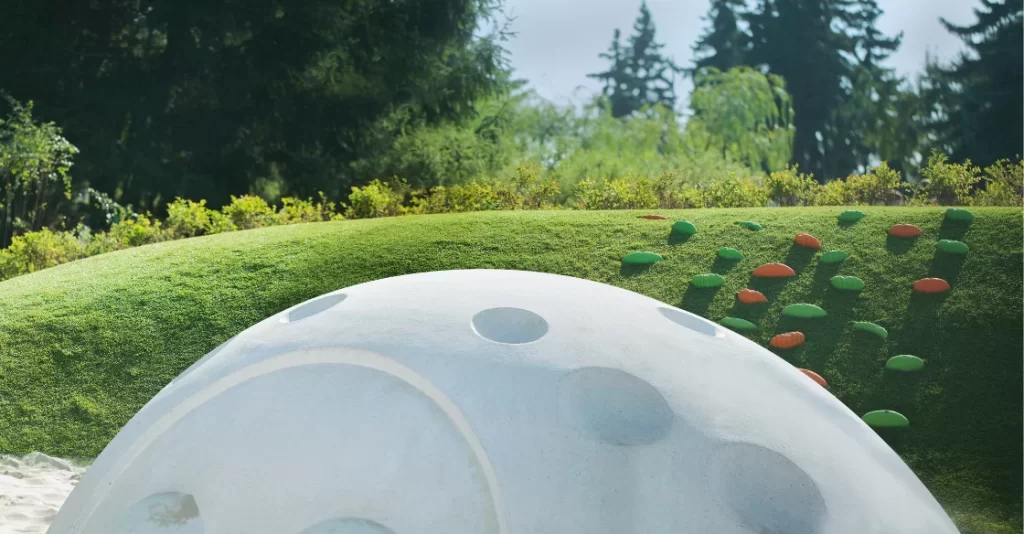 Where You Can Use Playscape Turf
The best alternatives to grass for play areas can be installed and used anywhere, from your backyard to city parks and school playgrounds.
Home
Imagine how cool it would be to have a playground in your backyard that is fully carpeted with a soft, durable play turf that not only cushions falls but stands up to the most aggressive wear and tear.
Installing commercial-grade products at home is like getting a two-for-one deal; it will last seemingly forever. Additionally, since it never needs to be watered, the savings keep piling up.
Schools
If it's good enough for your backyard, it's good enough for schools, too. Perhaps when you were a kid, officials built the school playground over a pit filled with shredded wood mulch or, worse, asphalt. What were they thinking?
Thankfully, there is a better way – Magnolia Turf. Now there are no more preventable injuries and little hitchhikers of wood chips riding into the classroom in cuffs and shoes. The custodian will be thankful.
Parks
Parks with well-engineered play turf are an excellent opportunity for a cleaner experience. Swing sets won't have those huge divots under the swings, slides won't have those massive cleared-out pits in their landing zones, and everybody will be happier with engineered play turf.
What Makes Magnolia's Playscape Turf Stand Out?
As the best of the alternatives to grass for play areas, Magnolia turf is the best playground turf there is. Here's why:
No watering, cutting, fertilizing or weeding
Antimicrobial protection
A clean installation means no mess or mud
Efficient drainage means it stays dry
Engineered padding for protection from falls and preventable injuries
Long-lasting and durable materials are a great investment
Perhaps best of all, we design and engineer the whole installation from start to finish. That means you have a turn-key play zone that's clean, durable, dry, and safe for your kids.