While installing pavers in your yard will help create a more unique and beautiful setting, keeping up with lawn care around the pavers can be a problem.
A great solution is to replace natural grass with artificial turf. Once installed, the turf won't need much maintenance.
A Few Ideas to Help You Get Started
You might know that you want to use concrete pavers with artificial grass to build a yard that you'll find beautiful, but you might not have any specific ideas. There are a few options to consider in creating a unique design for your property:
Start with a Basic Design
Sometimes, the most straightforward ideas are the best. You can create a concrete paver walkway with individual square paver stones, setting them at even intervals to form a linear walkway. Use artificial turf to fill in your yard and the spaces between the pavers. Line the pavers with lanterns or tiki torches to enhance the look.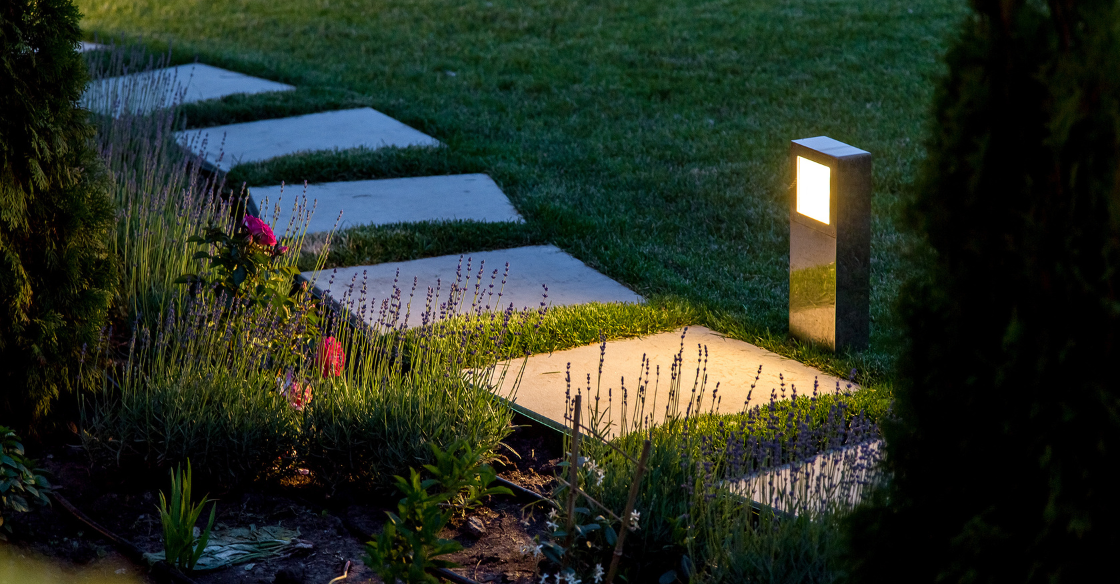 Connect Your Patio to Your Pool
If you have a swimming pool, create a walkway that connects your home's backdoor or patio to your pool deck. There are a variety of styles when it comes to choosing pavers so that you can match your pavers to your yard's existing aesthetics. Try a cobblestone walkway, colored concrete, or brick pavers.
Install artificial grass between the pavers or on either side of the walkway for a greener look. Replacing natural grass with artificial turf will save you from having to keep the grass trimmed close to the stone, concrete, or brick.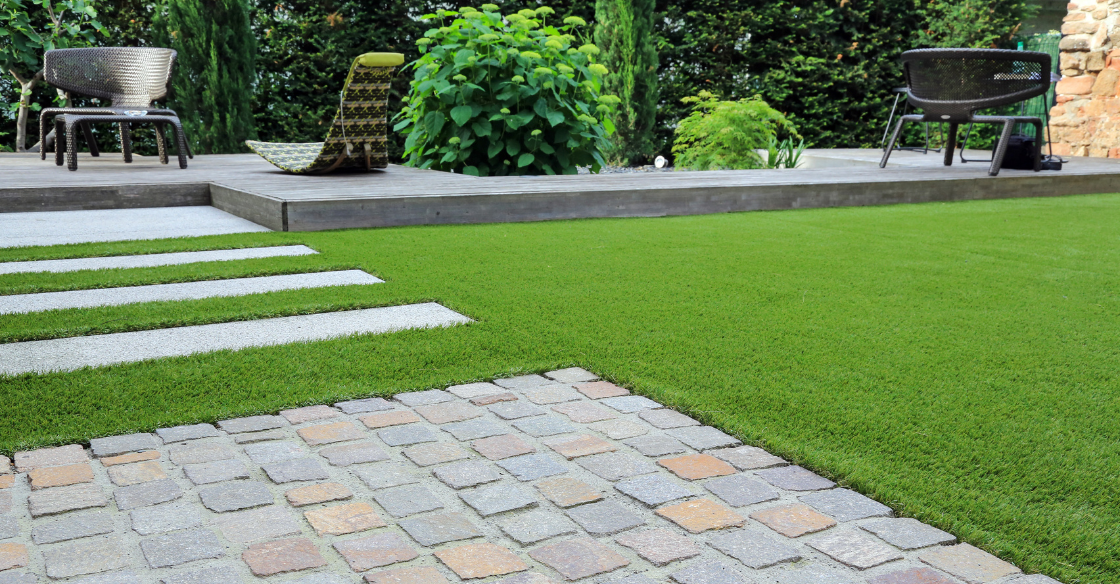 Combine Stone and Concrete Pavers with Artificial Grass
Using a variety of pavers can help you create the illusion of a larger yard by giving the eye more to see. Select one corner of your yard and replace the grass with stone pavers. You can set up patio furniture in this area or leave it open.
Leading up to the stone surface, replace the remaining lawn with artificial grass and pavers made from concrete. You can set up square concrete pavers to form an arching or straight walkway. Fill the spaces between the pavers with artificial turf, sand, or stones.
Fill in More of Your Yard with Pavers
Even though synthetic grass is maintenance-free, some homeowners prefer the look of cobblestone or slate. Create a larger stone surface that covers a rectangular or curved portion of the yard. Install artificial turf in small sections throughout the yard, flower beds, and other types of landscaping.
How to Install Artificial Turf Around Pavers
Don't feel overwhelmed if you're unfamiliar with using artificial grass for landscape design. A few simple steps can help you complete your artificial grass pavers project.
Clear the Area
The first step is to clear debris and trip hazards from the area you'll fill with artificial turf. You can use a hoe or garden rake to clear away stones, sticks, and other natural debris.
Install a Layer of Sub-Base
You should install a minimum sub-base layer with a thickness of 2 to 4 inches. Use a brick or another hard, flat object to compact the sub-base. You'll want to lay the artificial grass flush against the pavers, so make sure you install the sub-base close to the edges of each paver.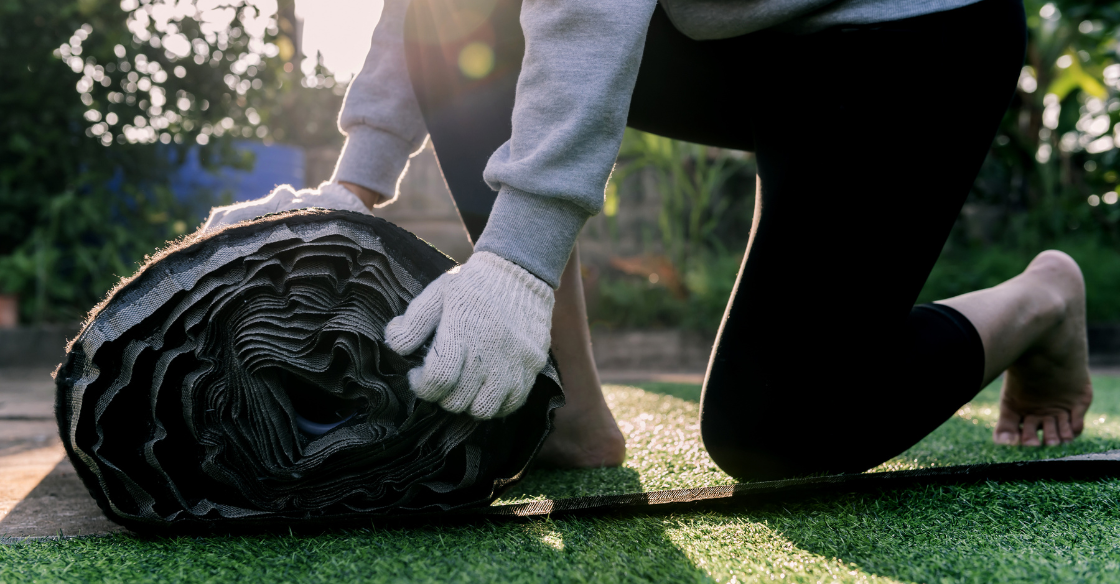 Lay the Artificial Turf
As you unroll and lay the artificial grass, pavers should be visible underneath the turf. Leave the turf ribbons lying freely for four hours to give them time to settle. When laying the turf, ensure the fibers flow in the same direction.
Keep an eye out for flat turf. Fluff these areas by lightly going over them with a rake or power broom until the fibers stand up.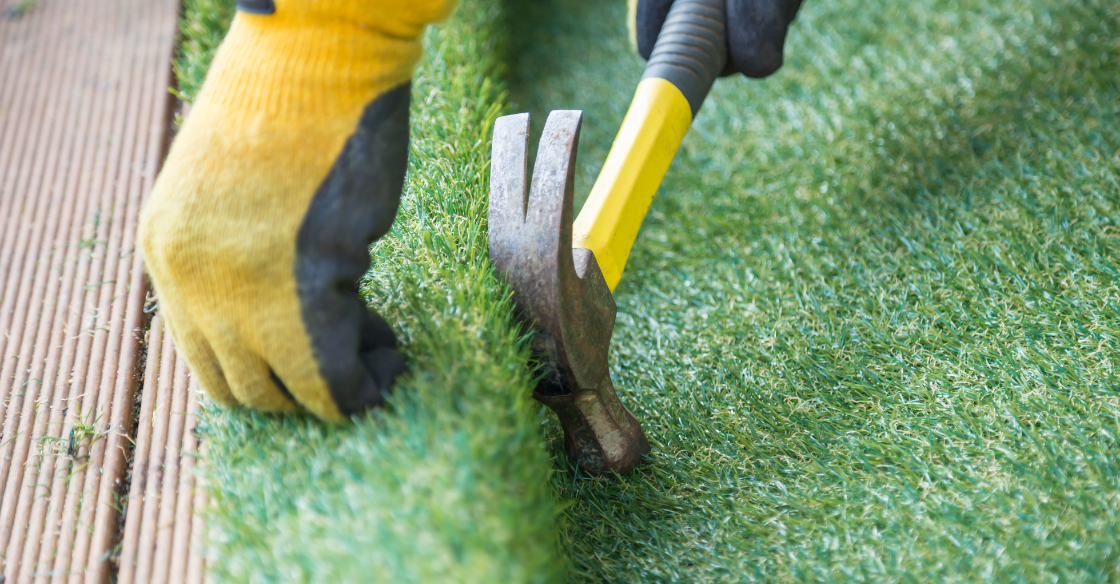 Nail the Turf in Place
Unless you're laying artificial turf over a concrete surface, you can nail it into place. Securing the turf with nails keeps it from shifting as you finish the installation process. If you're laying the turf over concrete, stand over each section to hold it in place for a few minutes.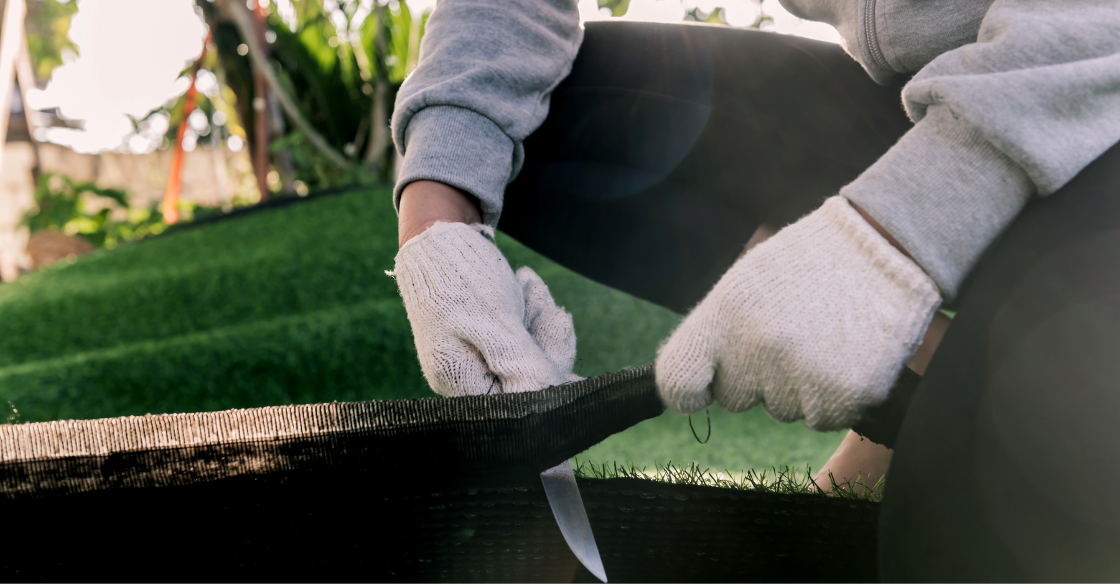 Cut Around Your Pavers
Using a utility knife, cut away excess turf overlaying the pavers at a 45-degree angle. Leave a one-eighth-of-an-inch gap between the paver's edge and the turf's edge to prevent the turf from bunching. Any extra space will leave a poor fit.
Close the Seams
Trim the turf where different rolls come together. You'll want to keep the two edges as close as possible without bunching the turf. After you seal the seams with joining tape, you can remove the nails you previously hammered into the synthetic turf.
Finish by Adding Infill
Use cork, sand, or rubber as an infill material and gently pour it around each paver stone. You should use one to two pounds of infill material per square foot. Once you add the infill around the pavers, rake the artificial grass blades until they stand upright and look natural.
Don't Be Afraid to Ask for Help!
This type of project requires a lot of time and patience. If you're unsure that you have the temperament or skills to get the desired results, don't hesitate to ask professionals for help. Professionals, such as Magnolia Turf's artificial grass installers, can give you more ideas for your yard, and they will help you complete your project in less time.