Recently, a client living in Plano, Texas, partnered with Magnolia Turf to convert their shaded backyard into a green oasis. Specifically, they wanted the yard to include a batting cage for their children and two separate putting greens. In addition, the client wanted a mess-free area for their family dog to roam.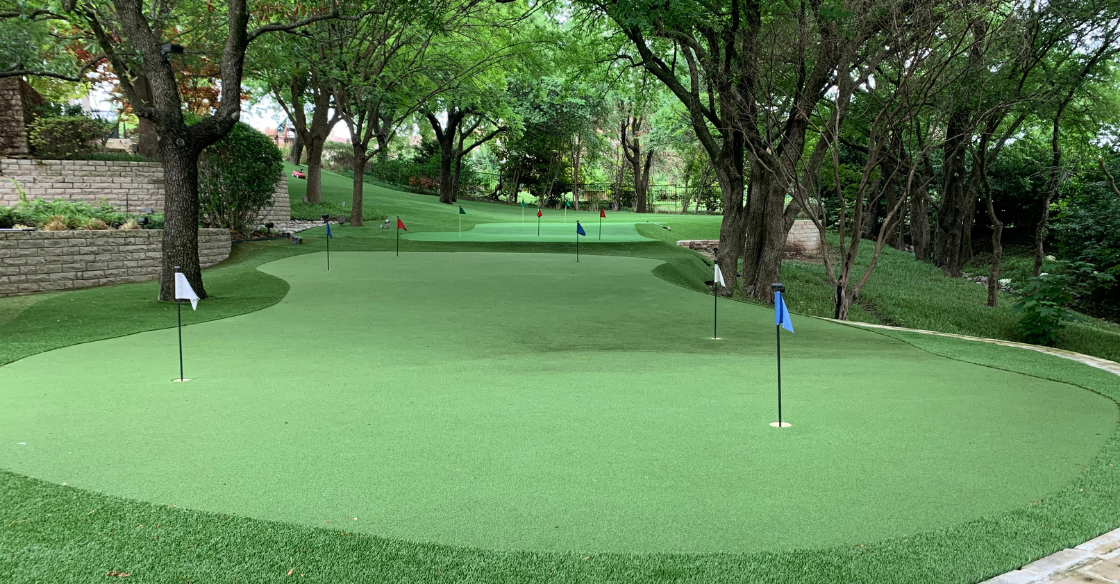 Key Project Challenges
By far, the biggest challenge that Magnolia Turf faced during this project was a large hill with a dramatic slope. If left unaltered, the steep grade of the slope could lead to rapid erosion, which would significantly shorten the lifespan of the finished project.
Magnolia Turf was also concerned that the hill's steepness would negatively impact the client's experience of putting green.
In addition to the hill, the sheer scope of the project could be considered another major project challenge. The total size of the backyard was nearly 10,000 square feet. While we often complete large and complex projects, these factors require us to carefully plan each phase of the installation process.
Planning the Oasis
Our staff met with the client to discuss the project details. During the planning phase, they collected measurements of the backyard, presented turf samples to the client, and recommended a design that incorporated all requested items. Magnolia Turf also provided an estimate.
Magnolia Turf's Solution
When starting the project, Magnolia Turf's first order of business was addressing the hill located on the cusp of the backyard. Our team carefully graded out the hill and compacted it to ensure that it would not suffer erosion.
Magnolia Turf's installers also had to carefully manipulate the putting green to reduce the decline of the slopes and create a more realistic experience.
For the main yard, Magnolia Turf installed Spring 65, one of the most popular artificial turf products. When installing the putting green material, they opted for Nylon Putt, an ultra-durable and low maintenance product ideal for the client's needs.
Magnolia Turf deployed Kid Play in the batting cages. This purpose-built turf material includes marking lines and a home plate, which creates an authentic batting experience.
Final Results
The clients now have the backyard paradise they had always dreamed of. This project truly included something for every family member, including their canine companion.
In total, the family's revitalized backyard has 9,870 square feet of turf.
The beautiful thing about this project is how little maintenance and upkeep are required. The family simply needs to blow off any leaves and debris to maintain their new oasis during fall.
While this client's ask may have seemed like a colossal undertaking, Magnolia Turf rose to the occasion to create a project that exceeded expectations.
Are you dreaming of your own backyard oasis? Magnolia Turf is here to help. Contact us today to start planning your renovation.