As a homeowner, the quest for a perfectly green and lush lawn is endless. It's a constant cycle of carefully timed maintenance, and even then, forces outside of your control can leave your grass brown and patchy.
Artificial grass provides a practical long-term solution to turf troubles, but many questions about it persist. Learn about the actual cost of artificial grass and how it stacks up against the overall costs of natural grass.
How Much Does Natural Grass Cost?
In terms of installation costs, natural grass has the advantage. Professional natural grass installation costs, on average, between $1.00 and $5.00 per square foot. That means you can expect a 500-square-foot backyard to cost somewhere between $500 and $2,500 to seed with natural grass.
It's also important to consider that most homes come with a good amount of natural grass to start with. So the entire yard won't need to be seeded unless you're looking for a completely fresh start. However, natural grass comes with ongoing costs that can add up.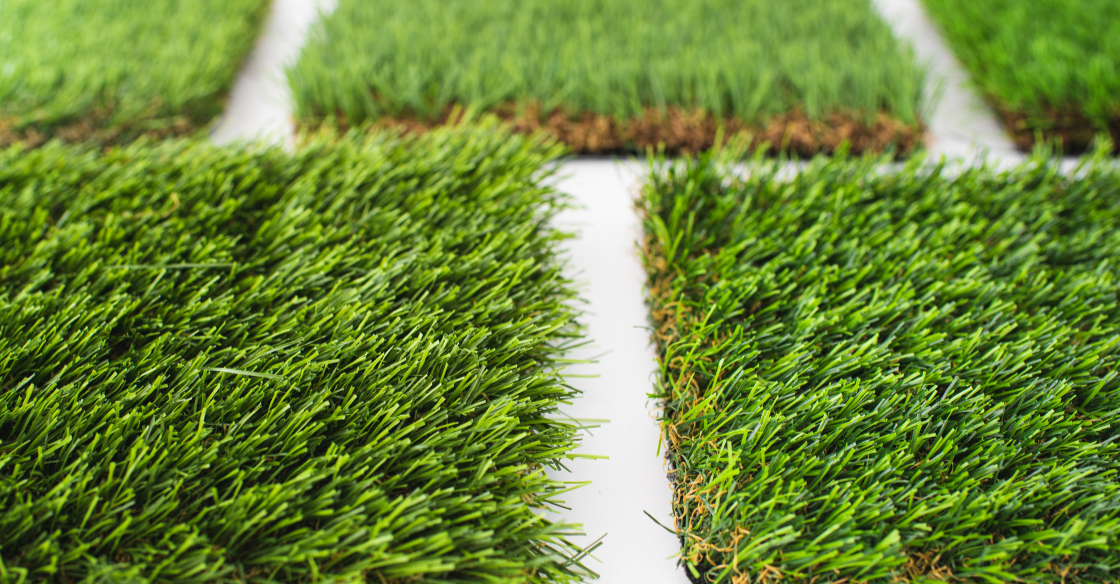 How Much Does Artificial Grass Cost?
Artificial grass costs are steep upfront, the turnkey cost of installation is anywhere from $7.00 to $11.00 per square foot. The price stems from the fact that a lot of work goes into manufacturing durable artificial grass.
Specialty types of turf will be on the more expensive end but can be better than traditional turf for families with kids and pets.
Putting Greens
Many homeowners are shocked to learn they can have a personal putting green with the help of artificial turf. Putting green artificial turf is carefully designed to maximize drainage and simulate the experience of a real golf course.
Typically, the cost of putting greens starts at $10.00 per square foot. While professional courses stretch for acres, you can get your private backyard green started with as little as 500 square feet.
Pet Turf
At last, pet lovers everywhere can rest easy knowing their furry friends can't ruin their backyard. With maximum drainage, urine instantly drains from your yard, so you don't have to worry about unsightly brown spots.
Additionally, we construct our pet turf from multiple reinforced layers, so your dogs can't dig holes in your yard. Despite their best efforts, your lawn will remain completely intact and perfectly green. 
The average cost of pet turf starts at around $7.50 per square foot but can increase based on add-ons and square footage.
What Kind of Maintenance Do Artificial and Natural Grass Require?
Installation costs are not the only thing to consider when comparing artificial and natural grass. You also have to think about what kind of maintenance both types of grass require.
Artificial Grass Maintenance
Artificial grass appeals to many homeowners because it requires little maintenance. You can maintain the appearance of your lawn by following a few simple steps. Take a few minutes every few weeks to leaf blow your yard.
If you have dogs, we recommend deep cleaning your turf twice a year with an enzyme called PE51. Your new artificial turf is a significant financial investment.
Keep It Clean
Pollen, dust, and other airborne pollutants. For lightly soiled areas, use a sponge mop with a 5% mixture of low-suds household detergent in hot water, followed by thorough rinsing. For heavily soiled turf, refer to the previous steps; and then follow up with a sponge mopping. In locations where rainfall is scarce, a water flush is beneficial to clean the turf.
Stains and other blemishes. Some cleaning solutions may be harmful to components of the turf system. Cleaning agents can be applied directly to the turf surface or without any special precautions. A commonly-used household cleanser called "Simple Green" is an example of the latter. However, for more tenacious stains, a 3% solution of an ammonia/water mix can be used instead of household cleaners. To eliminate any residues of soap or ammonia, thoroughly rinse the area with cold water.
Animal waste. Artificial grass is safe for pets, and it's just as easy to clean up after them as genuine grass. Turf Fresh is also available to eradicate other pet-related scents.
Chewing gum. Chewing gum can be removed by freezing, in addition to using dry cleaning solvent. Aerosol packets of refrigerant are available from most carpet cleaning companies; dry ice can also be utilized. Scrape with a knife after freezing.
Fungus or mold spots. The afflicted region can be sponged with a 1% hydrogen peroxide/water solution. Following application, properly flush with clean water.
Oil paints and more difficult stains. Please check with your Artificial Turf dealer to see if a commercial carpet cleaner is required.
Periodic Brushing
Fiber-matting can happen in high-traffic locations. The visual aspect of the turf can be improved by "cross brushing" it. It's best to use a brush with synthetic bristles. Brushes with metal or wire bristles should never be used.
Do Not Abuse
Despite the fact that your turf is made of tough, long-lasting fibers, you should take some precautions to keep it in good shape. Although lighted cigarettes will not burn the turf, they will cause damage by fusing the fibers. Ensure that the turf is not exposed to reflected sunlight windows, as this can cause the fibers to fuse together.
Natural Grass Maintenance
Although the low startup costs are tempting, natural grass requires monthly maintenance that can quickly add up in labor and dollars. In addition to regular mowing, natural grass must be cared for with fertilizer, irrigation, and seasonal treatments to kill and prevent weeds. It also uses gallons of water to keep it green.
On average, monthly maintenance costs for a natural grass lawn total about $200, which doesn't decrease with time.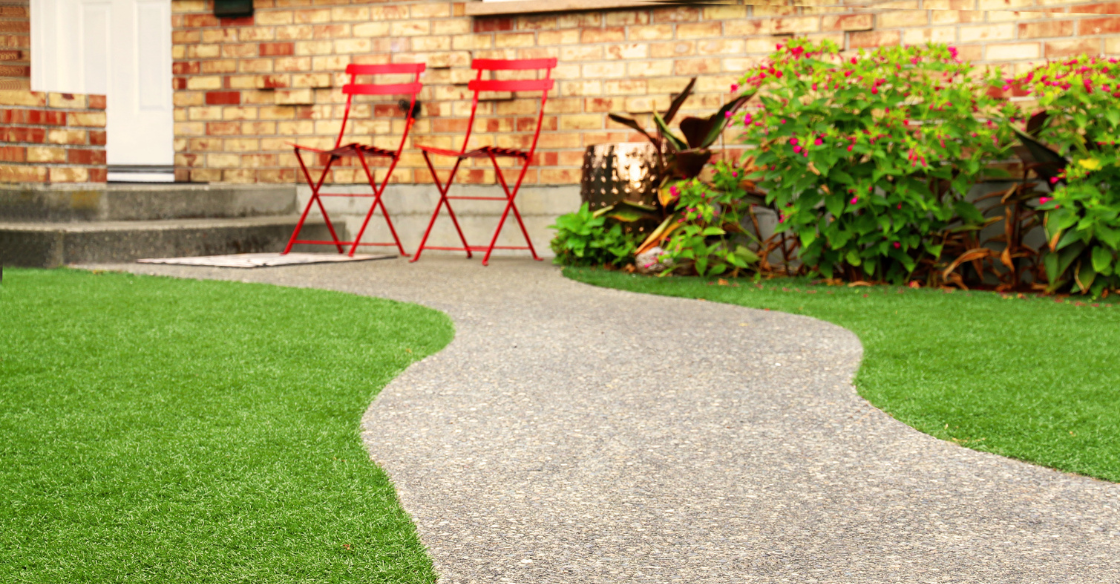 The Long-Term Costs of Artificial vs. Natural Grass
Artificial turf costs significantly less than natural grass in the long run, despite the higher installation cost. When examining the ongoing costs, artificial turf pays for itself within three years with all the money you save on maintenance.
Natural grass costs about $2,400 per year, whereas artificial turf costs nothing. Therefore, over 20 years, you could spend nearly $50,000 maintaining a natural lawn, which dwarfs any installation costs of artificial turf.
Benefits of Artificial Grass
Artificial grass comes with several advantages. In addition to saving you money, other benefits of artificial turf include:
Water conservation
Added safety for kids and pets
Increased property value
Pest control
Green grass all year long
Easier maintenance
Of course, if you're the type of person who finds yard work relaxing, artificial turf may not be suitable for you. With a synthetic lawn, you can say goodbye to Saturdays full of yard work.
DIY vs. Professional Artificial Turf Installation
If you decide to invest in synthetic grass, the next thing to decide is how you're going to install it. Many homeowners are tempted to take on the job themselves, but this is a mistake. Installing an artificial lawn is not as simple as rolling out a piece of turf and calling it a day.
Working with trusted local professionals for your artificial grass installation is always better. They have gone through extensive training to know how to execute any artificial turf installation flawlessly. Problems may arise during installation that you aren't prepared for, but a trained expert is ready for anything.
Working with Magnolia Turf makes artificial turf installation cost-friendly and efficient. We have the experience necessary to take on any landscaping project. For more information and a free estimate, contact Magnolia Turf!