Maintaining a flawless lawn is hard enough, but it can be near impossible in Texas during peak drought season. However, not all hope is lost. Below are some Texas drought tolerant landscaping ideas to enhance your yard's beauty while conserving water.
How to Choose Drought Resistant Landscaping
Choosing the right landscaping for your yard will depend on your personal preferences. If you prefer a yard that's easy to maintain, drought-resistant plants may not be your ideal choice.
Succulents and perennials require less care and water than annuals. If you choose to incorporate them, succulents are the way to go. However, you'll still need to choose your landscape. Here are some ideas to make your yard shine.
Utilize Stone and Rock
The more area you can cover with stone and rock, the better. That's not to say you should fill your entire yard with pebbles, but you can utilize them to create simple yet elegant rock gardens or pathways throughout your yard.
Consider Incorporating Hardscaping
Hardscape fixtures, like fire pits or retaining walls, are a great way to add flair and sophistication to your yard while lowering your yard's water demands. You can also build larger structures like pergolas or gazebos to take up space and create a relaxing atmosphere.
Switch to Artificial Turf
The best way to save water and create a drought-tolerant yard is to switch to artificial turf. Landscaping with artificial grass is a practical, whole-yard solution that dramatically reduces the amount of water you use outside.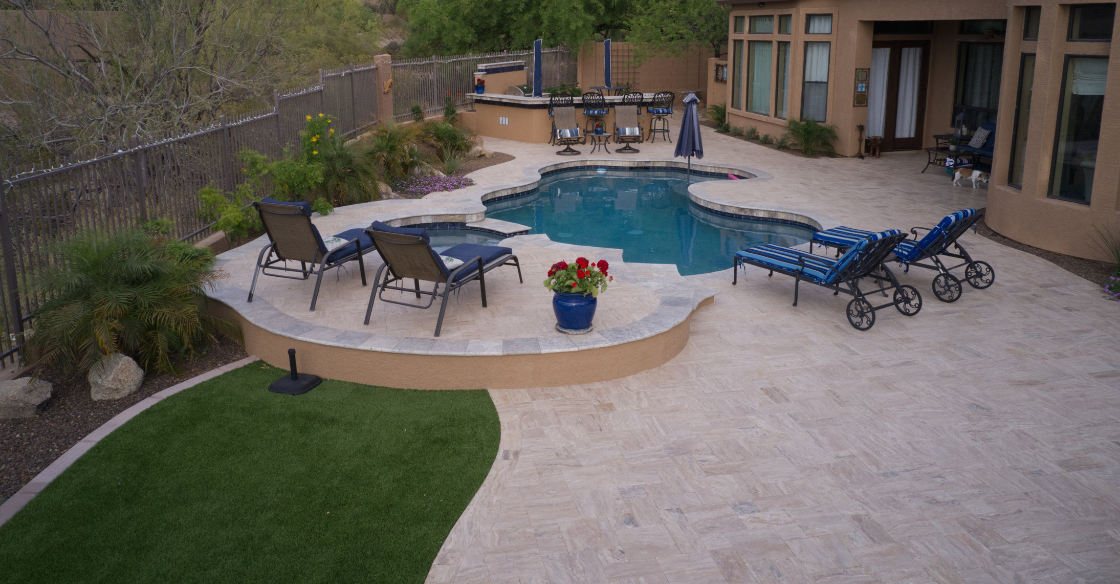 Benefits of Artificial Turf
In addition to conservative water, artificial turf has other valuable benefits that give it a competitive edge over natural grass and other grass replacements. Below are some unique advantages that only artificial turf can provide you:
Non-Toxic
Different brands have different methods of constructing their artificial turf, but any reliable brand will never use any harmful chemical coatings. Additionally, since the grass is fake, it doesn't attract the usual pests, therefore eliminating the need for pesticides.
This advantage makes artificial turf an excellent option for families with kids and pets. You can let them play freely without worrying about what kind of chemicals they're picking up along the way.
Low Maintenance
Artificial grass is low maintenance compared to natural grass. All it requires is a sweep and a rinse now and then.
You never have to worry about mowing, watering, weeding, seeding, fertilizing, or other maintenance that comes with natural grass. This solution gives you more time to do the things you love instead of agonizing over every little detail of your lawn.
Superior Durability
Artificial turf landscaping is much more durable than natural grass. You don't have to worry about it getting torn up with lots of foot traffic or turning into a muddy mess when it's wet. High-quality artificial turf can withstand just about anything and can last up to 20 years, sometimes even longer, if properly installed and well maintained.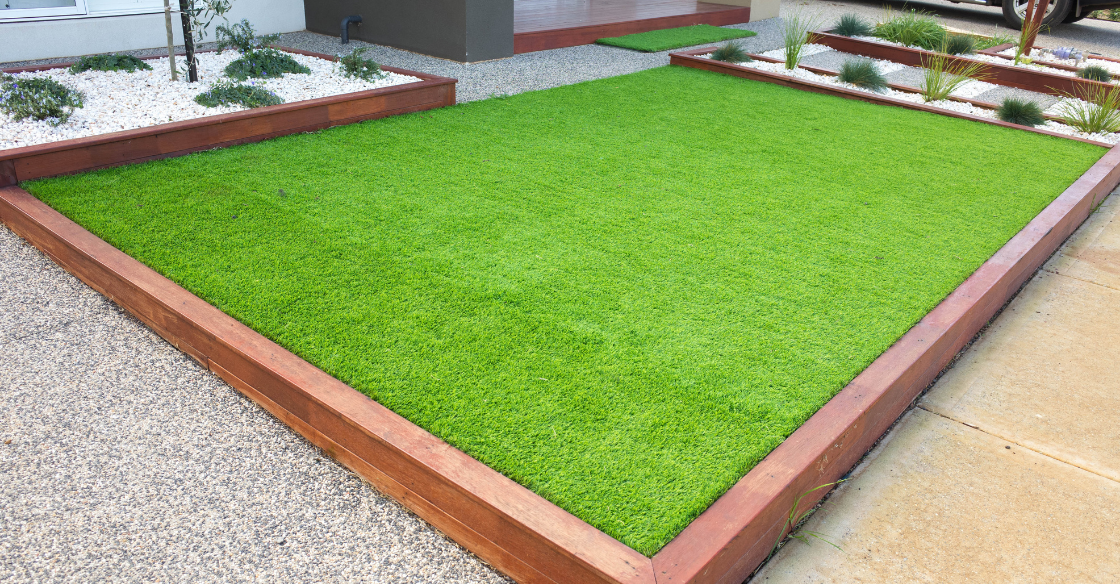 Artificial Turf Drought-Tolerant Landscaping Ideas
Artificial turf is the most versatile and cost-effective among the different Texas drought tolerant landscaping ideas. Below are just a few of the many landscaping ideas you can bring to life with the help of artificial turf:
Create a Backyard Golf Course
Ever wanted to practice your backswing at home? Golf lovers will be happy to know they can create a golf course with artificial putting greens in their backyard. This approach offers all of the same benefits as artificial turf for landscaping while also simulating the feel of a natural golf course.
Pet-Friendly Artificial Turf
You can use pet-friendly artificial turf to create safe play areas for your furry friends. You don't have to worry about pests irritating your pet or your furry companion accidentally ingesting something toxic with synthetic turf. It's also much easier to handle waste disposal compared to natural grass.
Custom Artificial Turf Landscaping In Texas
There are dozens of Texas landscaping ideas to consider, but ensure you work with an artificial turf professional to check off everything on your wishlist. This approach will help save you time and money and simplify the planning process. For a free estimate on any artificial turf project, contact the team of experts at Magnolia Turf Co.